Grammarly referral program is capable of making you a lot of money if you follow the tips in this post right away.
Note: Am not showing you how to get grammarly premium free but how to make money with grammarly.
So, basically if you are searching for below then you are in the wrong place
grammarly free trial
grammarly premium referral link
Grammarly invite a friend link
Etc…
You know about grammarly, right?
Did you also know that you can make at least $100 or more than monthly from their referral or affiliate program?
Well, that's true if you follow the tutorial on this post.
Just before I show you how to make money with the grammarly referral program, let me make known to you what grammarly is all about.
About Grammarly;
According to Wikipedia,
Grammarly is a cloud-based English-language writing-enhancement platform developed by Grammarly, Inc. The software was first released in late 2009. Grammarly's proofreading and plagiarism-detection resources check more than 250 grammar rules. 

Wikipedia
 Above is very explanatory and you already know what grammarly is all about.
Now I will walk you through making money with grammarly affiliate program also known as the referral program.
About grammarly referral program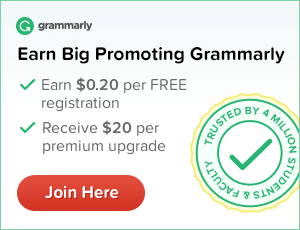 The grammarly referral program is a program by grammarly that allows you to earn as much money as possible just by referring people to grammarly.
How it Works?
If any one signup through your link, you will be paid $0.20 for free [They don't need to buy]
If they upgrade their plan later, you will earn $20 flat commission.
Damn Great Stuff!
This is very simple affiliate strategy
Join the affiliate program
You will be given a special link
Promote that link
Get people to buy or just signup
You are paid commissions.
So basically, you see that it is very simple?
How to Signup for Grammarly Referral Program?
I would share the best ways to signup fast and start making money.
You need to follow this tutorial step by step.
NOTE: You need a PC for this to work if you are not on PC you can also get it your mobile (Android and IOS)
Step 1: 
Click here
to add the extension to chrome or firefox.
Step 2: Click on the extension from your Bar and Click Signup Free.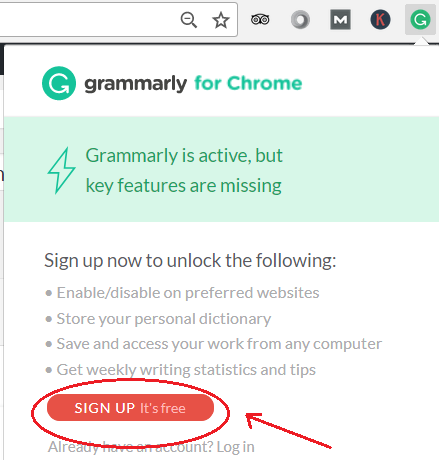 If Android no need to add extension, just click the same link above and hit "Get on google play"
Step 2: Apply for being an affiliate
Step 3: You will be approved in 3 days
Now you can get your links to start promoting and earning up to $100 monthly.
The more you earn depends on how you promote.
More Awesome Posts:
I hope this grammarly referral program also known as the grammarly affiliate program helps you earn more from your blog and social media networks.
Prosper Noah is the brain behind TipsonBlogging. A full-time blogger & SEO expert.  His tips has helped a lot of people
start their own blogs
, grow it and make money.