Hey guys, I will be introducing the best keyword research tool  and also show you exactly how to use it to get #1 google rankings.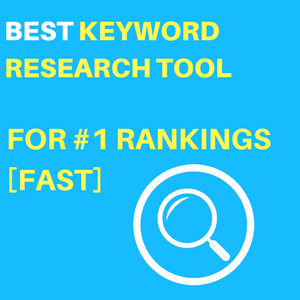 But Just before then, I urge you to buy the keyword ranking beast, It's our Step-by-Step #1 Premium Product for Ranking keywords easily and Fast.
If you need to get more organic traffic you need keyword research.
The goal of every blogger is to get organic traffic from google search and other search engines.
The big question now is;
Do you also need more Organic Traffic like me?
Sure you do but the big problem is.
How do you find keywords that you can rank for easily or which best keyword research tool is able to help you handle that without much:
Promotion
Aggressive Link building
Outreach
Guest Blogging
etc
Before I bag in to giving you this whole idea, you need to take note of some basics of keyword research.
Still a Beginner in Keyword Research?
No Problems as I would be walking you all through.
You are going to Cover;
What Keyword Research Really is
The Type of Keywords you should Target for Higher Rankings
The Best Keyword Research software or tool you need to take advantage of
The Easiest way you can do keyword research to gain maximum Results
More Success as you Practice
My Little Keyword Research Case study
When I first started this blog right back in 2015 I never got to know about anything called keyword research.
Here is what I do back then, which I believe you may be doing right now.
Create some 200-300 word long Articles
Publish
Share
Relax and wait for google to rank me
Image Source: Marketever
Care to know about the results?
You definitely do not expect me to get any organic traffic right?
I never had any good traffic from google search, very Clear.
That is exactly what happens when you don't follow the techniques pros use to get more organic traffic from google.
But hey;
I now rank on Google First Page doing Keyword Research
I noticed a massive boost in my google rankins when I made it a habit to do keyword research before writing my next blog posts.
I do it for every post on this blog and the results so far has been good.
Using one of the best keyword research tool, I've been able to build other blogs that rank on google first page for their optimized-for keywords.
I want to teach you how to do the same.
What's the Big Deal?
There are lots of bloggers who never make research before writing their articles. As a result of this you get complaints like:
Am not getting any traffic
Not even from google
No Revenue from the Blog
Etc.
Google Traffic is the best converting traffic because they are targeted traffic.
Users who arrive on your blog from google search are your Ideal Customers: those who are interested in what you offer on your blog, those who are ready to buy your stuffs.
If you're not focusing on keyword research, you are losing a lot of search engine traffic and definitely some money too.
Traffic, Targeted Traffic is the what every blog needs for success and you should start leveraging it right away.
What the Heck is Keyword Research Anyway?
I want to explain in a way you can understand easily:
Let's take for example you are looking to buy some snacks online.
This is what you probably do:
Head in to google.com
Enter "Where to buy snacks online"
You'd be displayed with some relevant results stating where you can actually buy them.
These websites appearing on the search results have done some keyword research and properly optimized their page for that keyword "where to buy snacks online".
The more people search for this keyword, the more organic traffic the websites on first page get.
This Means more conversion if they actually sell products there on their website.
In Layman Understanding
Keyword research is a a professional way of search engine optimization that allows you find relevant keywords users type into search engines like google.
The goal of keyword research is to rank on google for relevant keywords that bring in targeted traffic to your own blog.
Is Keyword Research Worth it?
Results show that keyword research is still a vital part of search engine optimization. Internet Marketers can't do without it as it enables them target their prospective buyers.
Lots of Micro Niche blogs make use of keyword research for long-tail keywords to rank high on google search without much hassles.
If you are looking to rank on the serps (search engine results page) you should start leveraging keyword research.
What Type of Keywords should you Target [with Inforgraphic]
There are quite two types of keywords when it comes to keyword research
Short Tail Keywords
Long Tail Keywords
Short Tail Keywords
Short tail keywords are necessary those high volume [1-2] keyword you type on google. They get massive amount of searches but only the big guys in the industry tend to pull all of this traffic.
Eg:
"Blog Post"
Building backlinks
Linkbuilding
While these keywords are easy to write about, they are not easy to rank for and that is why you need Long Tail Keywords.
Long Tail Keywords
These keywords are very specific to the searcher and get some decent amount of traffic too from google search. These are the kind of keywords a searcher types into google search when he is looking
To buy a particular product
More Details on a particular topic
Etc.
Don't be Deceived, Long Tail Keywords are not necessary Long 
Keywords can be long (up to 3-4 words) but that does not guarantee it's actually a long tail.
Long tail keywords are those keywords that have high traffic but low competition.
Meaning these keywords are searched for Hundred to thousands of times monthly but have very few people who have covered it online.
So what Keywords are Long tailed?
They Include searches with keywords like this:
How to Write great contents that Convert immediately
Where to get dofollow backlinks for food blog
Ways to not get the friends and family kind of blog traffic
Die Hard
Stay Healthy
Others you can think of
The main stuff here is,  a long tail keyword is defined based on the search volume and competition
"Big Companies"
Can be referred to as a long tail keyword, if it's low competition keyword with high search volume.
"How to Create a Blog Using WordPress with Newspaper Theme" 
May not be a long tail keyword if it has high competition, Plus low or high search volume.
If too many people have targeted this keyword, them it's no longer a long tail keyword.
They Convert
These keywords are the best converting keyword for a blog and very easy ones to rank for.
If you want to start pulling organic traffic to your blog, Longtail keywords is the key.
Here is an Inforgraphic from report gaden on Short Tail Keywords vs Longtail Keywords
Now that's a perfect explanation of longtail and shot tail keywords plus which is better for google rankings.
Longtail Keywords are the best keywords to target for more traffic.
The Best Keyword Research tool or Software for Finding Long Tail Keywords
Now that you know what keyword research is all about, am going to show you the best tool or software to start ranking for long tail keywords and pull in huge organic traffic.
Note: I used this almost-free keyword tool to rank this page #1 of Google for the keyword "Make Money with google adsense without a website".
Let's get started.
Introducing Long-Tail Pro Keyword Tool
Few Months back, I came to know about LongTail Pro on a friend's blog and after that massive info I decided to check it out and do a little experiment as a smart blogger
Initially LongTail Pro is a tool for finding hidden long keywords to rank for on google search.
I gave it a try and boom! Huge Results. Have been using them for quite some time and they are an amazing tool.  Believe me, Am not trying to sell you anything crappy!
According to expert reviews they made the list of the best keyword research tool 2017 right in this post.
I'd be walking you through using long tail pro to your advantage and success.
What you need to Learn
Your Attention
Immediate Action
Continuous Practice
There are lots of articles on the Internet that teaches how to use LongTail Pro but many of them are not easy to come up with. That's why I would be sharing with you the exact way I do Long tail keyword research using this software.
Note: This keywords is available to buy in our seo store right here.
Am not asking you to buy but just letting you in case you need us to find you easy to rank keywords instead.
By the way; If you need an agency to do all of your keywords research and seo stuff while you relax then you can checkout Grant McArthur SEO company.
You can follow below to do it yourself.
How to use LongTail pro to find Easy to rank Keywords
Note that this is not a completely free keyword research tool but it's very affordable.
First you are going to head in to LongTail Pro Website  and signup for a plan that suits you.
Click here to Signup and Enter your Details on the Next Page and you're all set.
Here is a Video of how it Works
Finding LongTail Keywords with Longtail Pro
Login to your Dashboard and Click Add a Project. Name the Project any title you want. Example: Am trying to rank for keywords on the Blogging Niche Category, I can title my project Blogging.
This is to help you  identify later.   So Let's assume my next blog post would be about affiliate marketing. I simply cant rank for that search term, there's lot of big guys with that keyword already.
So you would need a cool long tail keyword.
Put in a seed keyword into the search box E.G: "Affiliate Marketing" to get some really cool long tail keywords to rank for.
Follow the below text/image:
Input your Seed keyword
Set Max results per seed keyword to 150
monthly minimum searches to 100
Filter to have result keywords more than 3.Check screenshot for how
Finally Click on Retrieve Adwords Suggestion and wait to get easy to rank keywords ready.
You'd be displayed with Relevant keywords you can target as seen below featuring their Search Volume, CPC, Keyword Competition etc.
Simply hover your mouse over the short keys and you should see a hint of they are used for. Here are some and what they mean.
Search Volume : The Amount of searches they likely get monthly
Bid: The average Cost Per Click for that keyword [If you want to make money from google adsense, target high cpc keywords]
KC also known as keyword competition determines how far you can rank for that keyword. Target KC below 30 [They are easy to rank for]
Now seeing these few results with low Keyword Competition and good search volume from the analysis doesn't mean you are going to rank so fast.
Don't Start Jumping Happily Immediately [Lol]
There are things you need to take note to rank. Keep Reading!
If you see a keyword with search volume of at least 100-300 or more and has a KC below 30 then you've found a gold keyword but wait:
You've found some really cool keywords but in order to rank you need to check the Top 10 results for that Keyword.
In the in the screenshot above, Ive decided to go with affiliate marketing for instagram [Has KC 25 and Search Volume 390.
Click on the Keyword and you'd be displayed with the Top 10 Results, you need to look on 4 things here that guarantees your ability to rank.
Is your Keyword in the Title of any of the Top 10 Results: If no, good
Is it in their URL?  If no, good
What about the Meta Description? If no, Good
How many backlinks are they having Each?
Lastly but not so necessary.  Note  their Domain Authority?  [DA]
Yes, the keyword "Affiliate Marketing for Instagram" is a gold mine and very easy to rank for me here.
The Main keyword is not in any of the top 10 google search results which means definitely I can rank for it in few days just using some social signals, few or no backlinks.
If you happen to notice the keyword for example "Affiliate Marketing for Dummies" it has a very low Keyword Competition of 24 and Search Volume of 880 but is already been covered too much on google first Page.
Chances to rank may require enough quality backlinks however depending on your Domain Authority you can still go for this keyword.
When you find these easy to rank keywords you can quickly click on the star button to favorite them for future use.
So in summary below is how you find easy to rank long tail keywords using LTP
Make sure your Keyword is not in the Title of any of the Top 10 Results
Not in the URL
Not in Meta Description
Few Backlinks to Rank
Lastly but not so necessary.  Work on Increasing the Domain Authority of your Blog. It adds more advantage.
Now that you know how carry out this research, its time to rank
How to Create Contents to rank Long Tail Keywords Fast
Proper OnPage SEO
It's very easy to rank for long tail keywords if you do proper on-page seo. Below are some good onpage practice to focus on!
High Quality Contents: Very Detailed of about 1000 words long with Paragraphs, Examples, resources.
Your Keyword in Seo Title, Probably starts the Title of the Content. For example: If you are going to rank for this keyword "Affiliate Marketing for Instagram make sure its in your title
Your Keyword in the url of the article
In first paragraph or first 100 words of your article
Keyword in Image Alt text
Link to external source for reference
Fast Loading Page: Checkout this detailed to skyrocket your blog speed
Get Some Social Shares fast using seoclerks, linkcollider or ask readers to share.
Get Few or More Backlinks
Backlinks play a huge role in google rankings. The more backlinks pointing to a webpage the more google sees it as an authority.
If the top 10 for that keyword have little or no backlinks, take advantage: Replicate their backlinks or get as many quality backlinks as possible.
You should also increase your clicks from google search using the Power Words Technique to help retain your position on serps.
Following the above Onpage seo basics and help of some quality backlinks would help bring your article to google search.
More Organic Traffic, More Revenue.
Using the best keyword research tool I'm sure of getting more organic traffic from new articles really fast even without backlinks.
Long tail keywords are the best ways to rank a new blog articles without stress.
Am sure by now you know how to do keyword research for long tail keywords
I know how it feels when you don't get organic and converting traffic from google and that is why I put up this Detailed guide to help you!
Feel free to always check around when you need this article for reference. It would be here.
Which is your best keyword research tool? Share with friends and leave your questions and contribution.
Prosper Noah is the brain behind TipsonBlogging. A full-time blogger & SEO expert.  His tips has helped a lot of people
start their own blogs
, grow it and make money.