Today I will show you how to use SEMrush for keyword research to rank #1 for your Keywords.
I've been using semrush for keyword research for more than 5 years.
Would you love to use my all time Favorite Formula: Called the Ninja SEM Technique?
This semrush keyword research guide and strategy will help you find damn cool easy to rank keywords easily and fast.
This is the same formula I've used over the last few months that's got me good results from google serps [Search Engine Result Pages].
If so, then you are in the right post.
In this semrush guide I'd be showing you my exact tactics that you can copy and paste and find those gem keywords for your niche.
Below is an Infographic that describes this technique.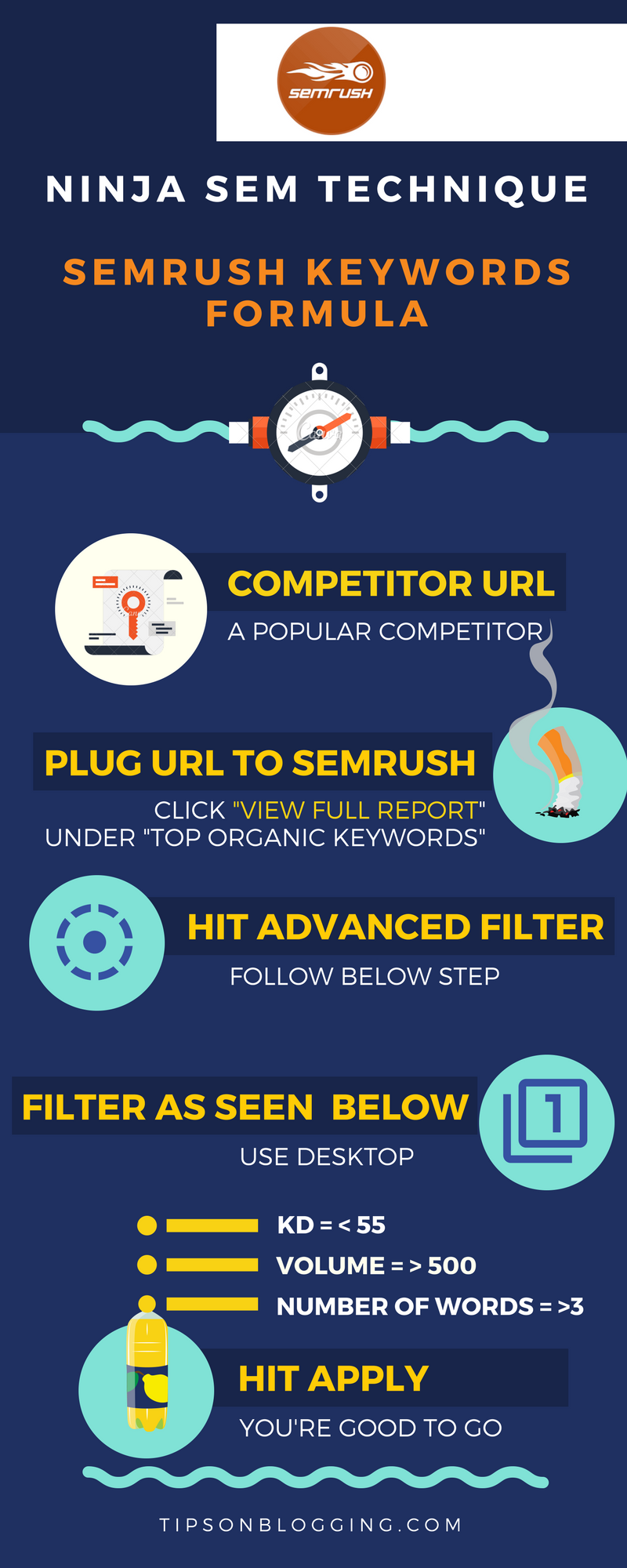 You are going to Learn:
What SEMrush is all about

Semrush how to

Why you Need it

How to find a good keyword with semrush

How to Use as well
Leverage it for your keywords research journey
If you apply this formula I call the Ninja SEM Technique, you are guaranteed to start getting lots of high searched keywords or long tail keywords to boost your website or blog SEO.
What is SEMrush?
What I love is that Semrush provides only fresh live data for domain analytics.
It's an all in one Search Engine Marketing and SEO tool that helps online entrepreneurs discover super high quality and potential easy to rank low competition keywords for their websites or blogs.
It's main aim is to get you the Exposure you so desire to pull more targeted customers using SEO.
Why use SEMrush in 2022?
You need targeted customers from Google Search
You have little or no budget for search engine marketing
Low or Zero Facebook Advertising Budget
You want free High Converting Traffic
As seen above, there are lots of bloggers that need to simply get organic traffic in the best and easiest way possible.
That's why SEMrush is always around to ease you the stress of spending too much.
You can simple plug things and start driving unending traffic which in turn converts into revenue.
Who Needs SEM rush Keyword Research Tool?
Bloggers
Website Owners
Small Business
Affiliate Marketers
Add more here
Without wasting much of your time I will just go straight to the so-simple formula I use in finding easy to rank or low competition keywords with SEmrush.
Note: You need to follow the formula carefully in order to get maximum results.
How to use SEMrush for Keyword Research [For Free]
Step 1: Know your Competitor
This is the most important part when using semrush for keyword research
They are actually the top 10 guys that rank above or with you when you search for a particular high traffic keyword in your niche.
For Example: Tipsonblogging competitors are blogs like Shoutmeloud, Roadtoblogging.com, etc..
So if you want to find out your competitior easily you can just put in a seed keyword to google.
Blogs appearing Top 10 are your competitors.
But:

You need to find one of your competitor: One that gets loads of traffic I.E:
You know it's popular
Has great amount of visitors
This should not be hard for you to find out.
If I want to find a competitor for a tech blog.
I would go for sites like cnet.com, computerhope.com etc.
This blogs have been in the game for a long time and rank for lots and lots of keywords.
Now that you know your competitor follow the next step:
Step 2: Signup for SEMrush
SEmrush is a paid tool but click here to get 7 days free trial.
After then you are charged depending on the plan you choose.
If you have an account already then follow next step below.
Note: If you don't signup, you may be limited from somethings, which may make this whole semrush keyword research tutorial useless. So signup for the free trial here .
Visit the domain overview tab or use this special url: >> semrush.com/info/competitor-url.com<<
Replace competitor-URL with your own competitor url: e.g. semrush.com/info/cnet.com
Now you will be displayed with the dashboard featuring organic traffic stats, organic keywords etc as seen below:

Click View Full Report as seen above. under Top Organic Keywords NOT Paid Organic Keywords
and Yes.
In the next page that opens, you get lots of keywords:
But Hey:
You are not done yet.
These keywords shown are ones you may never rank for even in 5 years to come because they are high of high difficulty.
I.E: The keywords difficulty are extra high and that's why you will follow the Ninja SEM Technique I use to get the easiest keywords to rank for using semrush.
I make use of the filtering tab [My Secret].
Follow the Technique Below:
WARNING: Don't do this from your Mobile, you may get stucked because the semrush dashboard is not so mobile-friendly. So use a Desktop.
1 Click on Advanced Filters
Select Keyword Difficulty and set it to Less than 55 [I love it this way for both new domains and already existing domain]. They are more easier keywords to rank for with almost a new blog or website.
Set Volume to Greater than 500 or 1000
Set Number of Words to greater than 3 or 4 [The More Words, the more specific and easier to rank]
Hit Apply
Use Image below for full understanding.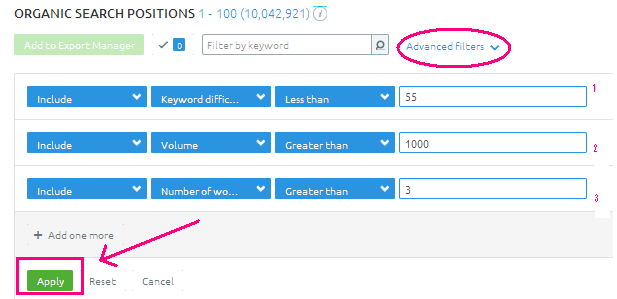 Now you see the low competition or easy to rank keywords. As seen below: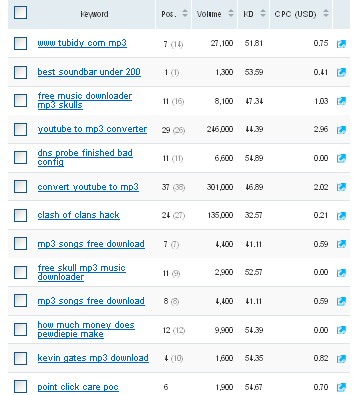 SEMrush will filter them based on the settings above.
Now you see above keywords? A Music blog can easily get lots of search engine traffic optimizing their posts within those keywords.
When you find these great keywords:
Take Advantage, one thing you need to know is that most of the keywords the site is ranking for is one he's not even targeting. Take advantage of this and get your contents up and running!
For example: In my last keyword research using SEmrush, I found out a keyword of about 880 search volume with around 40 Keyword Difficulty.
Semrush keyword difficulty tool is very accurate.
Now you know how to use SEmrush for Keyword Research and implementing the Ninja SEM Technique.
==> Go here to use semrush for free
What do you think about this detailed semrush tutorial in 2022?
Share it with friends on Social Media and have a great time. If you have questions, feel free to drop.
Prosper Noah is the brain behind TipsonBlogging. A full-time blogger & SEO expert.  His tips has helped a lot of people
start their own blogs
, grow it and make money.