Are you hungry to become a pro blogger but have little cash to invest?
I have been in your boat.
I blogged on a budget to build the foundation for my professional blogging venture.
Remember this; if you invest little money in your blog you will invest significant time and energy practicing your craft and building the skills to draw readers to you.
If you spend little money and don't do much work you will fail miserably in the blogging game.
Commit to studying, learning and practicing blogging and you should do A-OK.
Follow these 4 tips to blog on a budget.
1: Do NOT Cheap Out on Hosting
I had to include this as tip #1 because you cannot build a successful blog for free.
You can build an average blog for free and you can certainly build a failing blog for free but you need to invest money in reputable, dependable hosting to become a successful blogger.
Do not cheap out on web hosting. Cheap hosting solutions are cheap for a good reason; expect overloaded servers, poor customer service, snail like load times and frequent down time if you pay $2 to $4 USD a month on hosting.
Drop at least $10 USD a month on good web hosting. Get a part time job. Ask someone for a loan. Don't make the "I don't have money" excuse because bar none, not paying for good hosting is one of the biggest mistakes bloggers ever make.
Get the money. Pay for solid hosting. Then follow these tips…….
2: Guest Post
Guest post on blogs from your niche.
Spread the word, help people and build friendships with established bloggers for free.
Guest posting requires no monetary investment on your part. But you pay in commenting on blogs thoughtfully and promoting fellow bloggers on social media to build bonds with bloggers in your niche.
Blogging buddies gladly offer you invites to guest post if you are a skilled, confident writer.
Note; many skilled, confident bloggers practice writing 1000 words daily in a Word document to become skilled and confident.
Guest posting is one of the best ways to increase your online exposure for free, especially if you are blogging on a tight budget.
3: Make Blogging Skills Your Currency
You always have to pay something.
If you don't pay money – or pay little money – to build a successful blog you will pay in:
Energy
Time
Patience
Study
Practice
Creating
Connecting
…to become a rocking blogger.
Skilled bloggers who patiently master their craft can offer exposure to people versus offering cash. Such is the power of having a trusted, expert reputation in your blogging niche.
But to become a high skilled authority in your niche you must pay in time, energy, study and practice. Nothing comes truly free in this world.
Make your skills your prime currency. Bootstrap like a blogging boss.
4: Use Free Tools
Free tools can work quite nicely to fit your blogging needs.
Although the premium versions have all the bells and whistles, if you use free tools effectively by sharing helpful, targeted content and by engaging fellow bloggers through these apps you lay the foundation for a successful blogging venture on the cheap.
Learn tools inside-out from pros. Pay close attention to how the blogging big dawgs simply use tools to create helpful content and to build meaningful friendships with top bloggers in their niche.
Save money. Grow your blog.
The eBook
If you want to build a successful blog on a budget buy my eBook:
How to Build a Blog on a Shoestring Budget
Your Turn
What tips can you add to this list?
How have you built your blog on a shoestring budget?
About the Author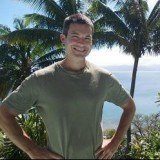 Ryan Biddulph is a blogger, author and world traveler who's been featured on Richard Branson's Virgin Blog, Forbes, Fox News, Entrepreneur, Positively Positive, Life Hack, John Chow Dot Com and Neil Patel Dot Com. He has written and self-published 126 bite-sized eBooks on Amazon. Ryan can help you build a successful blog at Blogging From Paradise.
Prosper Noah is the brain behind TipsonBlogging. A full-time blogger & SEO expert.  His tips has helped a lot of people
start their own blogs
, grow it and make money.