Need a full tutorial on how Payoneer Works? Well, Congrats on arriving at this post because you are going to learn from A-Z how Payoneer Account really works.
Sometimes I get tired when searching google for an information and at the end of the day, I get little or incomplete information about how what am searching for really works.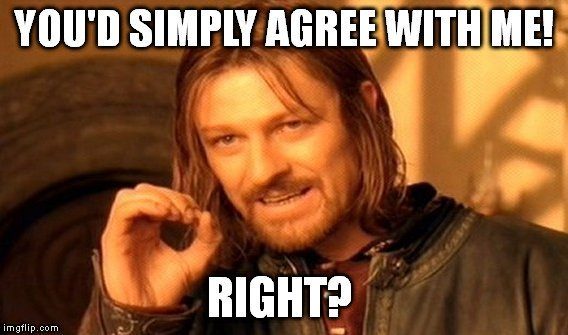 You'd also agree with me that "An incomplete information is not worth reading at all".
That's why I have decided to create this full guide on to enable you know the ins and outs of Payoneer Account to your blogging success.
Alert: Are you new to seo? click here to get cheap backlinks from best seo marketplace.
Why I spent Much Time on this Guide
You definitely won't see this kind of tutorial anywhere else on the internet except this blog. I want to make sure you avoid the mistakes, get the tips and tricks and lots more out of your Payoneer Account.
What Do I want from you?
I need your full attention only, believe me, am not going to sell anything to you all would be for free as far as you are reading this post here.
What is Payoneer?
Payoneer empowers global commerce by connecting businesses, professionals, countries and currencies with its innovative cross-border payments platform. In today's borderless digital world, Payoneer enables millions of businesses and professionals from more than 200 countries to reach new audiences by facilitating seamless, cross-border payments. Additionally, thousands of leading corporations including Google, Airbnb, Elance-oDesk and Getty Images rely on Payoneer's mass payout services.
– Source: Payoneer About
Now the description of payoneer above is just about what they do. In short, and relating to bloggers, payoneer enables you receive your blog earnings from Adnetworks like Google Adsense and lots More.
Payoneer has made it easier to receive your earnings especially for countries who are not being provided with paypal service at the moment.
Earning from your blog takes time, and so cashing out should be very easy with the help of Payoneer
With the Trust Payoneer has brought into the marketing industry, affiliate programs now deem it necessary to add them to their payment methods.
Payoneer Company Details
Founded: 2005
Contact/Customer Service: community@payoneer.com
Employees: 501 – 1k | 4 in Crunchbase
Is Payoneer Safe to use?
The big truth must be told, making payments internationally could stir up worries about whether your money would be safe or not. But the same is not true with payoneer as they have gained trust over the years of operation.
So Payoneer is very safe for your transactions, in fact, as said earlier many affiliate programs and freelance companies rely on Payoneer for smooth running of payments.
Payoneer Free or Not?
Payoneer has been offering free mastercard for applicants of some selected countries. You can use this card to withdraw from your local ATM.
I've been asked this question many a time "Does payoneer offer mastercard to indian users? The Answer is No for Now.
Indians can only get the account, while they send their funds to local bank accounts for cashing out or use to purchase products online.
While you now know few details on how payoneer works, if safe or not. Your next question should be how you can get one.
But Before then, Payoneer just updated their registration procedures and now its not like before when you register and get your card sent immediately after few days.
No Problems Though!
Keep Reading;
How to Apply for Payoneer Account: 2017 Registration Procedures.
Just like I said earlier, payoneer updated their registration procedure so, if you are still following the old method of application, you may get things wrong. You need to follow the tutorial in this post.
What do you need to Apply for Payoneer?
A responsive browser: Chrome or Firefox is recommended (Not Opera Mini browser especially if you are registering from Mobile)
A Working email address
A valid Identity Card e.g. National ID card (Paper or Card for Nigerians), Drivers License and Voters Card.
Patience (Required)
Step #1:
Visit Payoneer Registration Page here and click on the button that says "Signup and Earn $25" as seen below screenshot. I would explain the $25 later on this post.
Step #2
Upon clicking on the Signup and Earn $25 button you would be directed to a new page. This new page is where you need to enter your details. Make sure you enter them correctly in order to avoid errors later on.
Select Individual as account type or Business. This solely depends on who is using it.
I personally would select Individual.
Fill in your details and click on Next.
Below screenshot should get you going.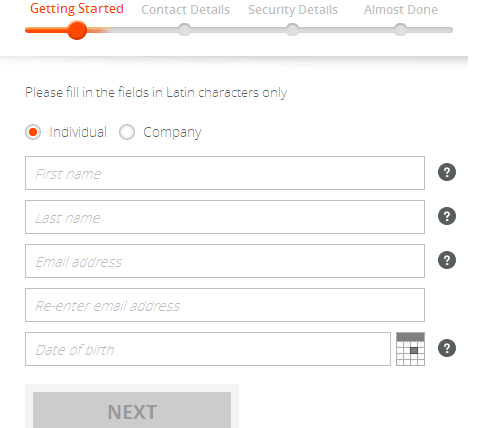 Step #3
On clicking the above Next, you would be taken to a new page, here you are required to put in your contact details e.g. Your Country, State, Phone Number, etc. Check below screenshot for more;
Click on the small arrow next to country to select the country where you reside in; that is where they would deliver your card.
Enter other details such as your street address, City, etc. Make sure you input a clear address so you don't get your card delayed.
Finally Click Next and proceed to the next page. Below is a screenshot to guide you.
Step #4
Now you need to enter your password and security question. Make sure your password starts with Uppercase (Capital) and is mixed with Number and symbols e.g. Keyword123*$
Click on the arrow and select your security question. Something you can remember later. Then click Next
Step #5
This step is where you would input your Identity Card Details. Click on the drop down arrow and select the card you have. Put in the ID No.
Note: Make sure you use a card that you would have access to; This is because as time goes on, they might want to verify your Identity and the Identity Card you used to apply would be needed.
If you use a wrong card, you may not be able to withdraw later, so here is very important.
Tick the three boxes to agree to their terms and conditions as seen below;
Step #6 [Last Step]
This is the last step. Here you need to enter your Local Bank Account Details.
But Wait, Why is Payoneer adding an Option for putting your Local Bank Details?
The benefit of applying with bank account details is that if for any reason you do not have access to your card, the default option for accessing your pay would be to withdraw the funds to your local bank.
So Cool right?
Payoneer's focus is to provide access to your pay at any time without restricting you to the card only.
Fill in your correct Bank Account Details such as Bank Name, Account Number etc.. in the required fields.
In case you don't know your swift code, you could follow this link to get it or ask your bank about it. (recommended)
You need to make sure it's correct.
Now enter the details as seen in the screenshot below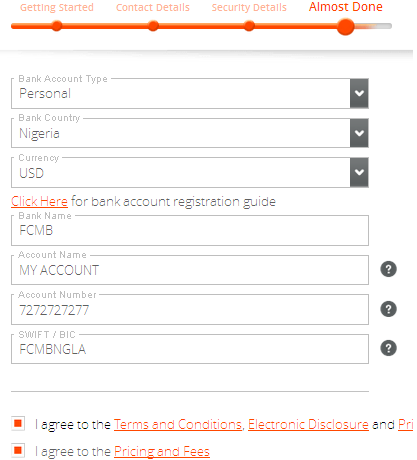 Finally Click Next. You would be welcomed to the last page with a congrats.
Payoneer would review your application and send an approval message via your email.
How to Apply for Prepaid Mastercard from Payoneer after Registration
Now that your account has been approved, you may want to get your prepaid card but before then you need to have some funds approximately $30 in your account.
How to Fund your Payoneer Account
There are two options
You either get paid from affiliate programs, freelance companies etc to your payoneer account or
Ask a friend who also use payoneer account to send you some funds
Then you can order your card. Meanwhile, you can withdraw all funds to your local bank accounts.
Activating your Payoneer Card
This is a very simple step. When you have gotten your card, you need to Select the card you would like to activate from the drop down menu at the top of the page and hit the activate button.
Fill in your card details
Enter your 16-digit card number
Select a 4-digit number for your personal PIN code.
This is the pin you would use in withdrawing from ATM
Re-enter your personal PIN code and click activate.
That's all for the activation.
How to Withdraw from Payoneer to Bank (Your Local Bank Account really)
First Add your bank account to Payoneer: How to do it?
Its way very simple with the new application procedure because you are allowed to add the bank details even before finishing application.
However if you wish to withdraw with your old application you can still do it. follow the procedures below.
1. Log in to your Payoneer account.
2. From the menu, go to Withdraw (at the Top right) and then To Bank Account.
• If you have not yet connected a bank account, you will be automatically redirected to a page for doing so.
• If your bank account is pending approval, you will be redirected to a Pending Approval page.
3. Choose the currency balance or card you want to withdraw from.
4. Choose the bank account you want to withdraw funds to.
5. Enter the amount you want to withdraw.
6. If you would like, enter a description for your records and click Review.
7. Review the details you entered and confirm the withdrawal.

Have more questions with the Withdrawal service, you can read this blog post on Payoneer Website.
How to Make Money with Payoneer
To Make money with your Payoneer Account you have several options and two are:
Through Adnetworks
Through Payoneer Partners (Freelancing)
How to Make Money with Payoneer through Adnetworks
Do you know the ads network you are suppose to sign up for that pays with Payoneer and allow you to cash out easily?
Top Ads Network that Pays via Payoneer

Infolinks
: Monetize your text with infolinks, they are paying twice a month when your earning is above $49. Monetize your content, your background, and even your referral traffic.
Adf.ly: Shorten links to share on the internet. Get paid $1 to $5 per thousand views. Get paid through PayPal at the minimum of $1 and $10 through Payoneer Prepaid MasterCard! Daily payment for 1-month old users and previously paid users; Monthly payment for general publishers.
You Get Paid through Payoneer when you reach a minimum of $15
ShareCash: This is a Pay Per Download File. You get $1 for eacg download, the minimum Payout through Payoneer Debit Card is $20. You can refer your friends to earn more.
Assurance from the network team:
"With Thousands of exclusive surveys paying up to $20 and covering over 200 countries, in addition to our self-optimizing algorithm that automatically chooses the best surveys for you, we'll monetize your downloads to the fullest extent possible.
SeoClerks: Seoclerks is a micro jobs site paying via Payoneer.
You Make
money online completing micro tasks and get paid through Payoneer, Paypal, Western Union, etc… here is an
seoclerks review
to get you started.
They pay into your free Payoneer Account when your account balance reaches $20. Earn 20% from your referred members and start completing tasks to get paid from $1 to $250 per task.
Adbooth
: Adbooth is an ad network split into a cost per mile and a cost per action network. It is one of the
internet money making program
where you can cash out your earning via Payoneer.
Make Money from Payoneer Partners
When you hear of Payoneer Partners, it has to deal with websites that has Payoneer Bank Account as it's payment method.
Most of the sites am going to list below would be more on freelancing!
Ever heard of the term "freelancing"? you must have heard of a Freelancer!
A Freelancer is anyone who dedicates his/her time to earning a living through working online e.g. as a writer, designer, and or selling work or services hourly, daily etc.. rather than working on a regular salary basis for one employer or the other.
Below are a list of available well paying freelancing sites where you can work and withdraw payment directly into your Payoneer Account.
You Sell your micro freelance services through Fiverr. It is like
SeoClerks
. You list your services when an employer hire you to complete such services. They pay you through Payoneer at $20 minimum after you complete the job and have your funds cleared.
Freelancer.com
Freelancer.com
is one of the world's largest freelancing, outsourcing and crowd sourcing marketplace by number of users and projects.
On freelancer.com employers hire capable freelancers to do some jobs such as Designing of websites, Articles Writing, Web Development and lots more.
Just like Fiverr, you register and list your area of expertise, when employers pick interest in you. They hire you.
Upwork is another Payoneer Partner site. It's also a freelancing site just like Fiverr. It's a marketplace where you can make money and withdraw through Payoneer at $20 minimum payment threshold.
When signing up, make sure you choose Become a freelancer. So you do not end up signing up as a client because you have two options to chose from.
This is also a freelancing site where you signup, they hire you and give you a job to do such as web development and programming, design and art, writing, sales and marketing, business, finance, legal and more. Then they pay to your Payoneer Account when you complete the job just like others.
Now you know how to make money with your Payoneer Account.
Keep Reading
How to send money to Payoneer via Paypal
I have heard of complaints from some fellows that they were not able to link their Payoneer to their PayPal Account for withdrawing their paypal funds, meanwhile this was as a result of them doing it the wrong way!
Follow the below Steps Carefully to send money to your payoneer account via paypal
1. Login to your PayPal Account: Now this is where some make mistakes. You are not supposed to click on the Link a Card Instead Click on Add a Bank Account as seen in the screenshot below: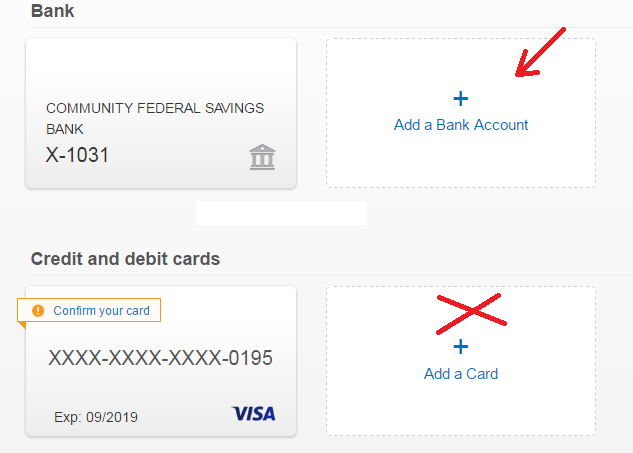 2. Now in the next dialogue, you would be provided with where you would Add your Payoneer Account Details as show in the below screenshot: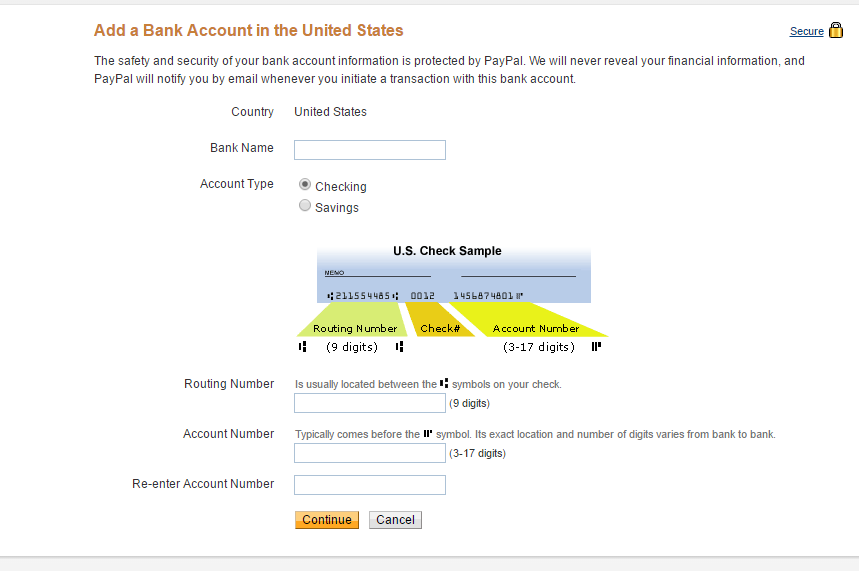 3. To get all this details, login to your Payoneer Account, and click on Receive >> Global Payment Service to get your Payoneer Account Details.
4. Now your Payoneer Account Details would be displayed i.e. If you want to receive payments to your Payoneer Account from any Company that accepts Payoneer, that's what you're going to give them. Just like screenshot below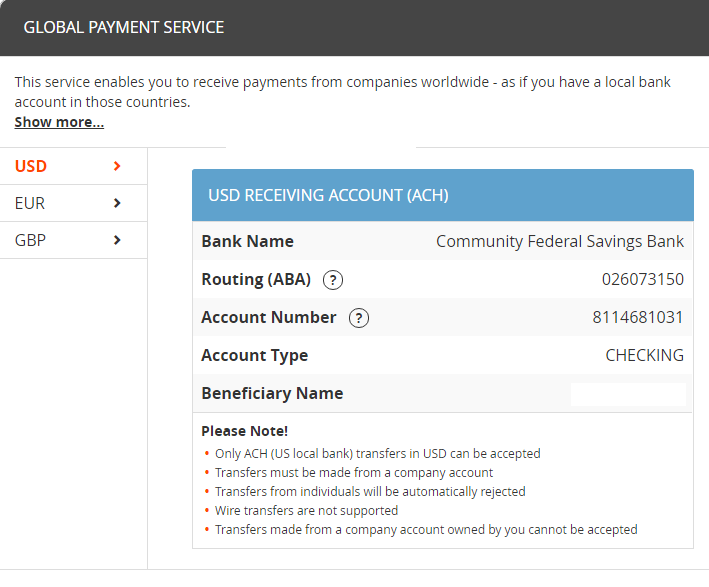 5. So you now have Your Payonner Account Number, Routing, Account Type, and Bank Name which is what you're going to submit to Paypal in Step 2 above.
6. So, now fill the Bank Details as stated in Step 2, and Save and you are Done adding your Payonner Account to your Paypal for Withdrawing funds.
Now if you have funds in your Paypal and want to Transfer it to your Payoneer Bank Account, follow the below short steps
8. From your PayPal dashboard, Click on Transfer Funds and in the space for where you are transferring the funds to, click on your Payoneer Account as seen in the screenshot below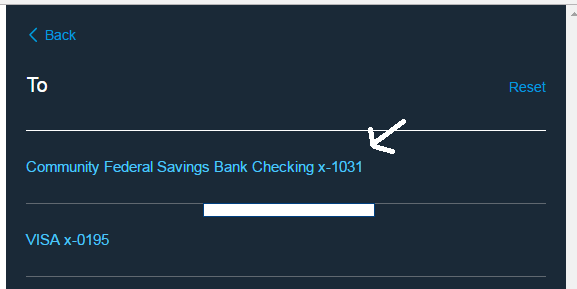 9. Enter Amount you want to transfer and Click on Continue, Now at first, it will be set to pending, and takes maximum of 3-4 days to set your Transfer to Completed.
Completed here does not mean the money has arrived in your Payoneer Account, It means Paypal have sent your money and it is on its way to your Payoneer Bank Account!
So it takes a maximum of just two days for the money to be credited to your Payoneer Account!
The money should be credited to your Payoneer Account in less than a week (6 days).
Below is a Transfer of $30 from Paypal Account to my Payoneer Account earlier 2016.

When It was credited to my Payoneer Account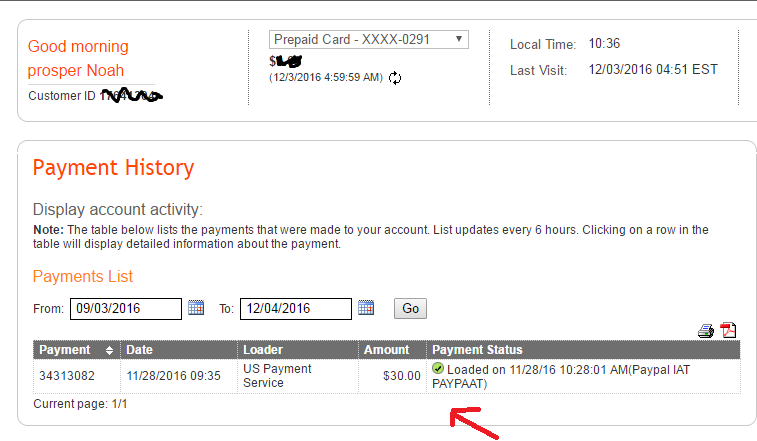 How to receive money through payoneer as a Blogger, Includes Affiliate Earnings, Google Adsense etc.
In order to receive payment from google and affiliate programs, there are no difficult steps.
All you need do is go to your global Payment Services from your payoneer dashboard as explained above and copy your Account Details.
Then you submit to the company where you want to be paid from. To withdraw your payoneer funds via your Local Bank with your Card, you should make sure you select Current Account instead of savings.
Thats' where some people make mistakes
As simple as these!
Now I have come to the end of this Post, and believe I have been able to answer all of your questions. If not, the comment section is the best place to ask more questions.
I'd be glad you share with your friends so they can also come to learn all that they need to know about Payoneer.
Signup with Payoneer Right Away
Prosper Noah is the brain behind TipsonBlogging. A full-time blogger & SEO expert.  His tips has helped a lot of people
start their own blogs
, grow it and make money.