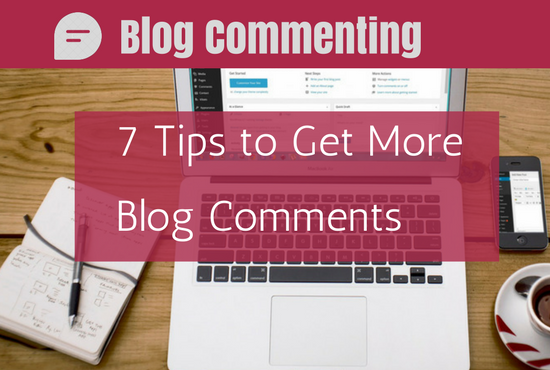 Want to get more blog comments whenever you hit the publish button? That's what every author loves. Spreading the love and expecting appreciation, questions or contribution in return.
But the Big deal is you don't just get comments easily, right?
There are varieties of things you need to do before you can start getting the comments you so deserve on a blog post.
When I started my blog newly, back then 2015, It took me up to 2 months (if not more than) of publishing and sharing to get my first blog comment.
Why?
I never knew how to get comments on a blog post.  Like I always say, newbie bloggers focus more on publishing a lot of contents and sharing, then relax to expect comments and or shares.   It just does not happen that way.
Meanwhile, its not so this time around, as I've discovered all what it takes to get more comments on a blog post
I'd share some tips you can use to get more blog comments on your blog posts after hitting the publish button.
How to get More Comments on your Blog
Choose a Blogging Niche (Stick with It)
Here is one place where authors are missing out on. If you have a blog that's not focused on one topic, then you definitely would not get the comments you so desire.
Take for Example:  A Google searcher searches for a keyword on Google on "how to make money online" and your blog happens to be among the search results.
He clicks through to read your article and after reading, he decides to bookmark your site so he can come back to read similar articles later on.
The next time he comes, he meets another topic entirely on "How to Bake Cakes". Sounds odd, right?
You should stick to one Topic which is also known as your blogging niche.
If you are on the WordPress niche, publish posts related to WordPress.
If Make Money Online, publish posts related to making money online
If Travelling, Share Travelling Tips
If Blogging, Do not divert to publishing posts on the Technology Niche
Because you would lose targeted readers and as well comments on your posts, you can't work on more than one Niche at a time.  Readers do not want to read more than one topic at a time too, so keep publishing contents on your Niche.
Having all contents focused on one niche would attract comments easily and fast. It took me a long time before arriving on one niche but it should not take you the same time. Here is a perfect post by Ryan Biddulph on choosing a blogging niche.
Having a blogging niche would also let you focus on one Topic, so you can save yourself the stress of having to come up with articles on different topics  at a time.
This helps you get more comments as only those who are interested in that niche would be reading your articles.
Write Epic Contents
Gone are the days where you write a 300-400 words long article and expect the results you so desire. I personally stopped this long ago as writing 300-400 words long articles don't give the time to explain more on a heading, idea etc..
When you write long contents (quality one) you have the time to clear up everything concerning that topic, give room for questions and contributions from readers and lots more.
Note: Quality matters a lot, not just the length of the article but focus mainly on providing detailed explanation.
Research's shown that long contents helps you rank on Google search and as well spikes up comments on your posts.
This is because you created the time for your readers; they'd appreciate by leaving their comments and as well share the contents which definitely bring up more comments as they expose the article to others.
The secret tip to getting more blog comments is to actually write quality contents: The type of contents that readers' really love.
How can you actually write Articles Readers Love?
It's very simple;
Focus on your Readers questions in the comment section and write comments around them
Focus on Competitor's readers problems in the comment section and write blog posts around them
Find Q&A (Question and Answers Websites) like Quora.com find relevant questions to create contents around them on your blog
Join Facebook Groups on your Blogging Niche and attend to Readers problems by creating contents around their questions
When you create contents around these questions, you actually solve their problems which definitely lands you comments on your blog posts.
Publicize your Contents: Get More Targeted Traffic
If you create epic contents and there's no one to read them then there's no way you going to expect comments. Traffic also known as readers are the ones to actually comment on the articles.
When there are no readers, then expect little or no comments on your blog posts. You need to get more traffic:
Below are articles with tips that would help you get more blog traffic Fast
You should also schedule your posts to be shared on Social Media Networks Like Facebook, Twitter and Google Plus. Make use of a tool like Buzzsumo or Blog2social to share your blog posts immediately after publish on a schedule.
The More the Targeted Traffic, the more comments you can expect on your blog posts.
Link to other Blogs in your Posts.
When you write articles, make it a habit to link to other blogs at least 2-3 to stir up comments.
One smart way to get even more blog comments is to mention other bloggers in your posts, link to their articles and notify them about it!
As always said, everyone loves to be called by their own names and when you link to them or mention them, they'd pass the appreciation by commenting on your posts and as well get you more shares.
Remember the more shares (exposure) the more possible comments you can get on your Posts.
Compile Interviews
This is mainly referred to as Expert Roundups. It's one of the best ways to pull in more comments
Here is how it works and how you can use it.
Meet few bloggers in your Niche
Ask them questions on how they feel about a particular topic
Create Content on the answers you receive
Give it Cool Titles E.g: "30 Experts Share how Blogging Benefits the Mass"
Contact them after the Post has been published
Get Comments, Lot of Shares etc.
Very Simple right? When you do these, you spike up comments and even more comments as those guys you contacted would love to share with their readers.
These readers, comment on the posts too and share. It goes on and on like that.
Comment on other Blogs
It's always said "Give first, before you ask". This term goes a long way.
If you want more comments on your own blog posts, do same to others first. When you begin leaving comments on others blog posts, it's most likely you are going to start getting lots of comments in return.
This works a lot in building your relationship with the authors and their readers. When you are seen as a regular commenter, you'd get as much comments as you desire too.
Start leaving comments on blogs in your niche and you'd see how fast you can start getting more blog comments.
Ask Questions and Welcome Contributions
This is also very important. When you create articles, at the end of each ask your readers questions.
Leave them to contribute their opinions too and you'd see how well you are going to encourage them to start leaving comments right away.
Wrapping Up!
The Proven Method to get more comments on your blog comments is to actually comment on other blogs and they'd definitely return the favor, also make it a habit of replying to comments to keep the commenters coming back.
Have any method you use? Do share them in the comment section.
Prosper Noah is the brain behind TipsonBlogging. A full-time blogger & SEO expert.  His tips has helped a lot of people
start their own blogs
, grow it and make money.