Recently I promoted a page on Facebook that got everyone saying " Show us the way."
Sincerely I didn't know I tried with the ad targeting because that actually was my third promotion on Facebook after I've learned a lot about Facebook ads and targeting.
Today's post is case-study-like and coming from a guest author Ilyas Akinbola a blogging coach and social media marketer
One of those guys confessed that he had spent more than $20 on Facebook ads without getting a reasonable amount of likes on his page.

Wow! And I spent just $0.87 to get 496 page likes within 30 minutes that I started the promotion. Now, let's do the maths together.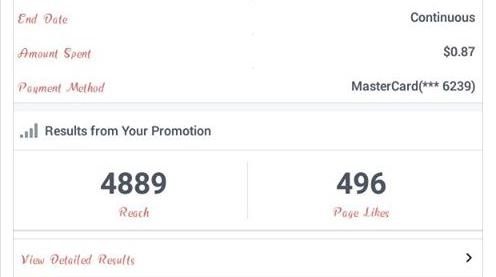 Assuming I am to spend that $20 on the promotion, how many likes is expected?
That is about 12,247 page likes with just $20.
Does this make sense to you? If yes, read on as I reveal how I got about this impressive result.
Before I came about that result, I was like Mike, what's up? Can you tell me how to do Facebook ads with just $1 and get massive likes on my page?
Mike was damn busy to attend to me. I didn't blame him. He does not come to Facebook to cater for my problems.
Then, I had to further my research and do the targeting all alone with the little knowledge I've acquired about Facebook ads and targeting.
Believe me! When I showed Mike the overall result, he was amazed and asked me how I achieved that.
Mike was a very good friend; I had to tell him few things I did. And I would be glad to let you know about it too.
What is a Facebook ad?
Just as the name implies, it's simply an advertisement made on Facebook.
When you post an update on your wall or your page, it gets to limited people (let's say your friends or friends of friends, depending on what you set your audience).
In a real sense, your update can't be seen by a very large number of people. But a Facebook ads can make the update be seen by billions of people. I said billions!
Why Facebook ads?
Many users run Facebook ads for different purposes which I will highlight few right on this post.
Asides from the fact that Facebook ads are relatively cheap compared to other platforms like Google Adwords, people believe that Facebook is a very large community that can get their information passed across to a very large mass with Facebook ads.
Some people run Facebook ads to sell their digital products like e-books. Some, to pass an important message to a targeted audience.
Some, to build interaction with people of the same interests. Some, to get massive likes on their business or personal page – which is why this post is written.

Want to get massive likes on your Facebook page too?Continue reading to see how to spend less on Facebook ads.
Did you know?
Did you know that people spend a lot of money buying ready-made Facebook pages? Some guys have already turned this into business. They buy and sell Facebook pages.
Then, doesn't buying from these guys make you a fool when you can simply build up your page by yourself and spending very less? Calm down; I will show you how.
I just need to explain some things you need to know before you jump to run a Facebook ad.
Terms you should be familiar with
Targeting – targeting on Facebook ads means the group of audience you want Facebook to show your ad. Targeting can be by
Location. E.g, Continent, country or state
Age range.E.g 18 – 35 years
Gender.Men or women
Religion. Muslim or Christian… And so on.
Interests – when you register new on Facebook, it asks you to choose some things you have an interest in like football (as a game) Nollywood (as a movie)…And all that.
This is certainly collected to know things that you have an interest in. In other words, your hobbies.
If you have ever come across an ad on your news feed, it means Facebook knows you have an interest in such ads through the "interests" you added while building up your profile.
So your ad too will be served to people who have an interest in it.
Potential audience size (reach) – As the name implies, it is the estimated amount of people that see your ads.
These are just a few things you might likely not understand. Believe me; all others are very self-explanatory!
Now, I think we are good to go to the real deal –


How to spend less on Facebook ads and get an amazing results.
Things to look at
Page name
The first thing that we will be taking a look at is the "page" you want to use to run the ad. How should you build the page?
I can't really say if a new page is good for running ads for a massive result because I've never used a new page before. I made use of existing pages to run the three ads which I didn't regret. So you can give a new page a trial and tell us what you come about.
But the fact is that you should make your page name relevant to the kind of audience you are targeting. What do I mean?
You want massive likes on a page that discuss "beauty," give it a name that is related to beauty.
Page info
Update the page info and the about section to match the audience you want to target. You can also add your website URL in the space provided. But this is not necessary since you are promoting for page likes and not website click.
Media to use
Honestly, I used the different ads I ran to test what works best for page promotion, and I can boldly say short videos work better than anything else. Many make use of pictures which ain't bad too. But videos work best for me.
If you're using video, do make sure the video is very short and it's long enough to pass the message you want it to pass. I don't want to sound specific about the video length. Also, make sure that the video you want to use has something to do with the content of the page.
For example, you want to promote a page that discusses beauty; you can just use a video of a woman rubbing cream on her body or a short video tutorial of how to style hair. Anything that has something to do with beauty.

Where can you get such videos?
YouTube is there! Fiverr is there! Or simply make a video of yourself doing something related to beauty. Just make sure it's short and captivating enough.
If you are using a picture, take note of the picture size. It matters a lot. The suggested width and height of a perfect picture for Facebook ads are 1200 X 628 pixels respectively.
Get an eye catching picture that is related to your page and resize to the suggested size above.
Let your image speak well enough about the page, I repeat, and also use an interactive image. "Interactive" in the sense that the picture is able to draw people's attention and make them like and comment on the ad.
Now, I think we are good to go. What are the steps to promote a Facebook page for massive likes?
Step 1 – start the promotion:
Go to the page that you want to promote, and on the home page, click on "promote page" on the left navigation.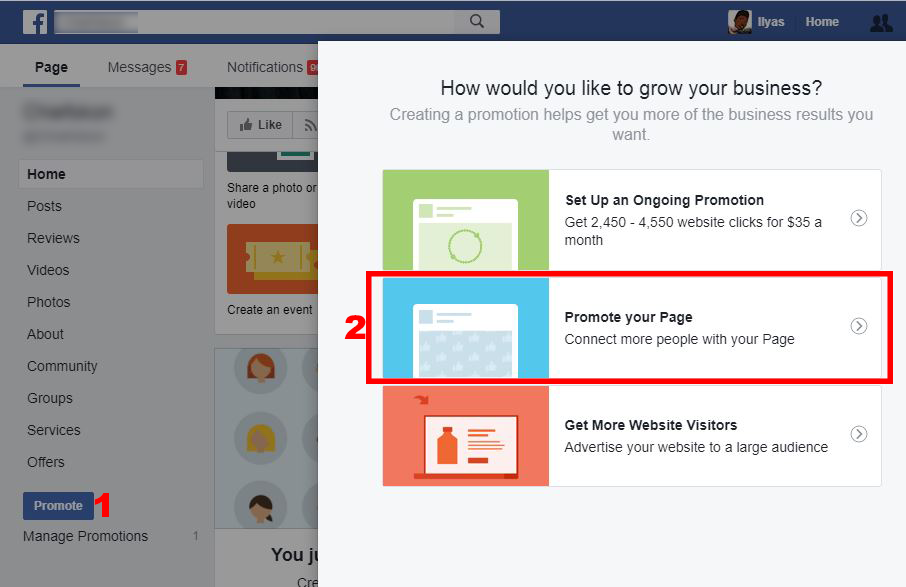 A pop-up window will appear where you can choose the type of "promotion" you want. Here on this post, you want to "connect more people with your page." So you click on "promote your page"  as indicated in the above image.
Step 2 – update description:
In this text area, edit the description of tasting. Make it compelling enough to attract attention. This description will be displayed to your targeted audience.
Note:
The text area should be written in accordance with the image or video you are using.
The text should not be more than 90 characters.
Make it simple and relate the text with the image/video.
You can upload a new photo or video using the buttons. I discussed the usage of photo or video earlier.
Step 3 – Targeting:
Here's where targeting comes in. Remember I told you what aspects of targeting you should focus on?
If you have never promoted the page before – click on "create new audience" in the "AUDIENCE" section – or click on "edit" near "people you choose near targeting."
Set the following as they follow:
"Gender" – Leave it as "all."
"Age" –  set it to the age range of people you believe would have an interest in what your page is all about. For example, "beauty" concerns age of 18 years upwards while "comedy" can include 13 years old.
"Location" – start by adding a country. Then, scroll to the last page to see your "potential audience size."

The "potential audience size" changes whenever you add or remove a location or interest, or you change the age range. Do series of trials and errors (I mean add and remove different locations, interests and change age range) till you achieve a great number like the one above.
Step 4 – set your budget:
When you must have done with the targeting and, of course, you have achieved a great number of potential audience size, it's now the time to set your budget.
Forget whatever amount displayed on the "Daily budget" column, simply click on the small arrow beside the amount to choose your own budget. Enter $1 (to test confirm this tutorial is working).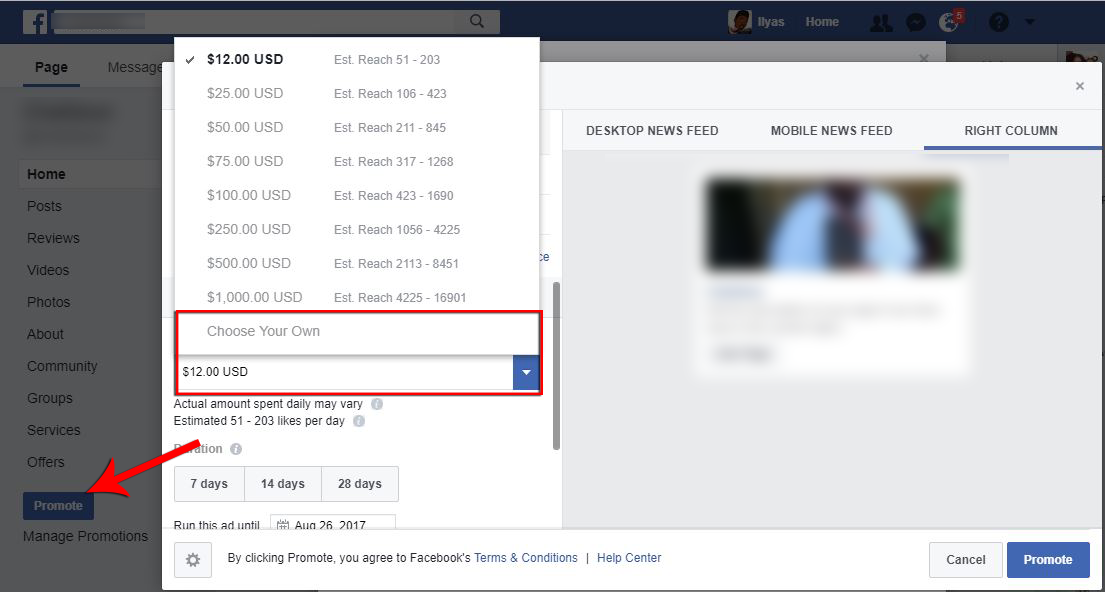 Note that the estimated page likes reduce (depending on what you target in step 4). Don't mind this estimation. Just make sure the estimation is higher enough – at least 5 – 20 likes per day. You can go back to "targeting" to increase the estimation.
Step 5 – duration:
If you use mobile to set up your ad, there's an option to "run the ad continuously." Set it to run continuously and stop the ad manually whenever you wish to do so.
But if you use desktop where you might not find this option, set the duration to a very long period of time. You can also manually stop the ad when you wish so.
Step 6 – add a payment method and promote:
Add a payment method, and you're done. Then, click on "promote."
You have just set up a super Facebook ads to get a reasonable amount of likes on your page.
What next?
Wait till your ad is approved, and within few minutes of approval, check your promotion in the "ads manager" to see how well your ad is performing. You will see how much you've spent so far, how many likes you've got on the page through the promotion and the categories of people you targeted responding to the ad.
Before you go,
Here's a checklist of what to do to get a reasonable amount of page likes with your promotion:
Target locations that can be familiar with what your page offers.
Make use of "suggestions" when you are targeting by interests.
Add and remove locations and interest to see if a particular location decreases your potential audience size.
Also, change age range to see which range of age boosts your potential audience size.
Check your ad performance regularly. Pause it if it's not yielding well and recheck your ad set you from the beginning.
We have finally gotten to the end of this tutorial. Feel free to add your own checklist if you have more knowledge about Facebook ad promotion.
Let us meet in the comment section if you have any question for me.
Call to Action
[seostore affid="559372″ category="23″ amount="12″ orderby="ratings"]
About the Author
Ilyas Akinbola is the founder of the blog easymadeblog.com
He practically teach newbies how to do blogging the easiest way. He also coach newbies to build successful business and personal blogs.
Prosper Noah is the brain behind TipsonBlogging. A full-time blogger & SEO expert.  His tips has helped a lot of people
start their own blogs
, grow it and make money.