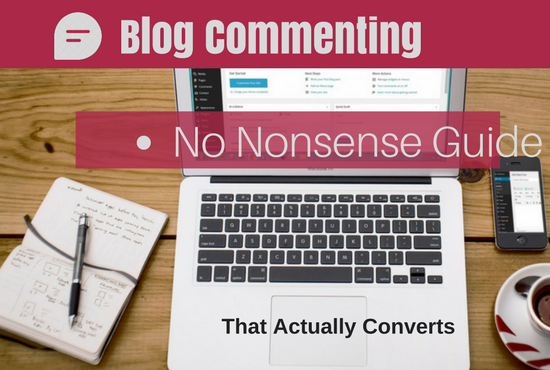 If you found yourself on this page it means You want to learn how to do blog commenting for traffic,  SEO,  and building relationship.
Here on tipsonblogging i want to show you exactly how this is done.
If you are looking for a way to improve in blog commenting which definitely exposes your blog to new audience,as well as increasing your subscribers and Page views then here is the last bustop where you can learn all what you need to be successful in it.
go here to learn how I made $205 from SEO
There are many ways you can improve in blog commenting but finding the ways that actually works still remain the important thing but before we dive into this you need to understand some few things.
What is Blog Commenting and its Importance?
Now let me answer this question with a question. What is a blog without a community of readers?
A blog do not only need readers but readers who interact with the contents; with their Questions, Answers, Contributions and lots more.
How to Build A Blog Following Without Looking Desperate
If you own a blog that publishes lots of quality articles on a regular basis, then you'll love it
When Readers appreciate your hardwork
When they ask questions
When they contribute to a post
It encourages the author to keep posting more quality contents that you love.
What are some Blog Commenting Examples?
You've probably visited lots of blogs and have seen different opinions in the comment section.
Some comments ranging from
Thanks for sharing this article"
Loved the Post"
Great Post etc"
Reasoning from above, you see there are actually different types of comments but which of them actually converts?
How to do Blog Commenting
You are looking for ways to comment the right way on blogs that in turn converts. When we say convert; there are different meanings starting from
Commenting for Traffic Conversion
Commenting to Build Relationship with the Authors and his Readers
Commenting for SEO I.E: to rank higher on Serps (Search Engine Results Page)
Whether you are commenting for the purpose of any of above listed, I've got you covered, you are going to learn the best ways to comment so you can achieve what you so desire.
NB: When Commenting, our best tip and advice is to build relationship
How to do Blog Commenting for Traffic
Just as mentioned above, we have different reasons for commenting on blogs and the first or one of them is Commenting for traffic.
Are your aims going to be for Traffic? Well, there are very few ways that works for commenting with the sole aim of driving traffic
Look for Blogs in your Niche.
Its always advisable you comment on the ones on your niche because it helps you get more targeted traffic and exposure, contributing to what you are interested in.
In fact you won't be over stressed as you already know about the niche, however the most important thing is that the blog you would be commenting on in this aspect has to be
Active I.E: Publishes regularly and
Have some decent amount of traffic and followers.
How do you know a blog with followers and Traffic?
Probably the one that get tons of comments and is popular in it's field.
Must Know when commenting for traffic
Comment Relevancy
When commenting for Traffic do make sure you comment relevancy!
Don't just pop in and leave a comment like some spammer.
The only way you are going to leave a comment that does not get you into the spam box is when you read the post and leave your opinions.
CommentLuv Enabled Blogs: Added Advantage
When leaving comments for traffic, you should also take note of blogs with commentLuv integration.

CommentLuv helps you display your most recent blog post in your comments. It should not be abused though!
Am going to show you how you can get to know blogs with commentLuv enabled feature.
Keep Reading;
How to Do Blog Commenting to Build Relationship with the Authors and his Readers
This is the most recommended, however it is very possible to drive huge traffic from this also.
Building Relationship with a blog's author and readers is one best ways to build your blog as you would be adding quality to their own blogs through your comments.
In order to build a relationship with commenting you need three important things
A Gravatar
A Gravatar let's you display your image whenever you leave a comment on a wordpress blog and as well make you look professional.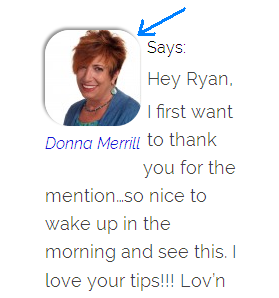 I personally do not recommend you leave a comment with the default white author image.
When you use a Gravatar it shows the blog author who you really look like and creates the first impression. That is your first step.
Leave In-dept Comments.
I suppose you already know where am driving at; yes! Do not leave the one line comments.
E.g. "Nice Post", " Great Article", "thanks for sharing " etc.
While these comments may look nice, the truth is they are far from nice.
They actually make you look like that old spammer wanting to get Backlinks to his site.
Those type of comments go well with any article on a blog and so gives an impression that you didn't read the post.
So you need to read the post, leave your opinions via contributing in the comments.
Below is a perfect example of an in-dept comment by Chris Deewaard.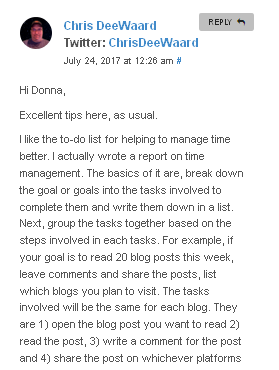 Help their readers too in your comments and you are going to build  relationship within few days!
Let them Know you are Talking to them in your Comment
Spammers do not waste time in personalizing comments, so make sure you mention the Author's name in your comments.
Add a "Hi [Name] to grab his or her attention
Make sure you visit the Blogs regularly so you can appear active.
I always advise you subscribe to newsletter so you can get alert of new Posts.
When you do this, you easily build relationship with the authors and readers.
Even when they don't happen to reply to your comments at times, you should not stop commenting as it helps you with more backlinks, exposure, etc.
Here is a detailed and Perfect post  by Chris Deeward on why you should keep commenting on blogs even though they don't reply to comments.
Blog Commenting in SEO: Do comments really help you rank?
Commenting regularly can help you build some backlinks however not so high quality backlinks but when done on blogs with high Domain Authority and good Trust Flow could spike up your rankings a little.
Firstly, Case Study by an SEO friend Anderson
Anderson built 20-50 indexed blog comments a day using OneHourBacklinks.com for a local search term.
After two weeks, the term went from out of the top 200 to position #20.
Another couple of orders, and it was up to #11 after a month.
Finally, he added 10 PR home page links to push it to #3.  (So cheating a bit, but the point is still valid.  :))
Bottom line:  You CAN move your site using just comment backlinks.
I don't recommend this approach, simply because it is susceptible to algorithm changes by Google.  However, it shows that comments are still wildly effective for ranking.
Secondly Here is a secret of blog commenting in seo that helps your blog a lot.
Rank for Your Name in Search Engines Plus Organic Traffic

Before I reveal this secret, let me tell ya a little quick discovery.
I recently came across a blogging friend Andrew M. Warner of content ranked, well he's become a regular commenter on my blog, In fact I see him on every blog I visit.
So? what about him?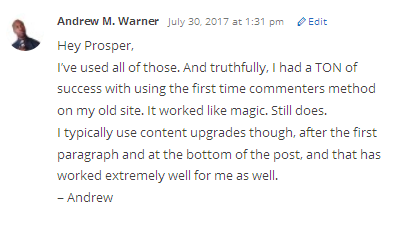 Well, you won't believe he leaves comments too but guess;
He doesn't leave a link to his website in any of his comments?
Well I had to reveal his little secret to you; I just hope he doesn't scold me when he gets to see this post LOL.
So the little secret is that it helps him rank for his name on search engines and probably lands some organic traffic to his blog.
The one great thing about him is that he leaves in-dept comments that gets you impressed and the only way you can get in touch with him is to actually copy his name and pop Into Google search.
Which definitely lands him;
More Organic Traffic
High click through rate
Etc
Such type of blog comments can help you increase your rankings.
Few Blog Commenting Tips to help you Comment Effectively on Blogs
When you plan on doing blog commenting for any purpose there are few tips to help you succeed
Make sure you try to always read the post, so you can have  what to say in the comment section
Do not try to leave links in the comments field, wordpress already provide you with a field where you can put your blog homepage url
Go for the sole aim of adding quality and value to the blog and not look like who's only there for the traffic and backlinks.
How to Find Blog Commenting Sites using 2 Ways
Many Sites allow comments but you really cant stop with few that you've come across, you need to comment on as many as possible to increase your visibility and chance of success.
But how do you find so many of them?
By Following Blog Commenters
Its very simple:
Visit the blog
Leave your comments
Click through the other comments you met there
Leave more comments
This lands you on other great blogs where you can find commenting opportunities.
Using a Tool
You may need a tool to help you easily filter which blogs accept comments and so am recommending DropmyLink.
DML would help you find sites to comment on easily without having to use search strings. Though search strings work too. But dropmylink would save you sometime.
How to Find Blog Commenting sites with DropmyLink.
– First you need to signup with dropmylink
– Activate your account by verifying your email and then follow below image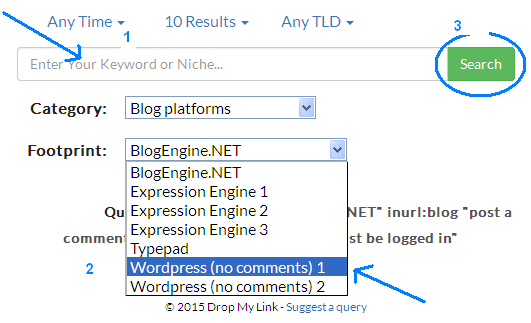 In the field for keyword above, Enter your keyword. Probably the topic you would like to comment on E.G: "blog Commenting"
When you hit search, you'd be provided in the search results with blog posts that allow comments in the "topic" as seen in the below screenshot.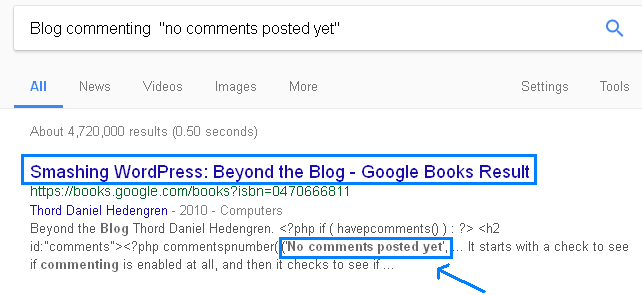 So all you need do is click through any one that interests you and you'd leave a comment on.
That's it with finding blog commenting sites with DropmyLink.
Blog Commenting for backlinks definitely have some good impact on your blog's rankings if done on authority sites however you should know that all your comments may not be indexed by google especially if done on blogs that don't get crawled by google quickly.
That's why I recommend One Hour Indexing for indexing all of your backlinks within an hour or less, you can try omega index as well for indexing your links.
Wrapping Up
I definitely recommend you comment on blogs to build relationship with the readers and blog author, doing this alone would help pull other possible benefits.
I have come to the end of the post, and believe you now know all about blog commenting and its benefits.
Over to you
Have you been taking blog commenting serious? Would you start practicing after this post? Let me know what you think in the comment box.
Have any other tips on how to do blog commenting which converts?  Share them below too.
Meanwhile do pass on the information by sharing with others.
Prosper Noah is the brain behind TipsonBlogging. A full-time blogger & SEO expert.  His tips has helped a lot of people
start their own blogs
, grow it and make money.