A reader asked if there was any article here on the blog that helps with building of email list.
Unfortunately there was none. There's been lot of articles featuring how bloggers can get traffic and lots more which definitely talks about list building or building an email list as a method of driving traffic.
Well, I would be talking more about how you can build your email list and not just that but various places on your blog that definitely gets you those subscribers you so desire.
When a Reader comes in to your blog they are there for two important things.
To get a solution to their problems
To learn more about a given topic
Once they find what they are looking for, the next thing is an EXIT. There are two options by the way.
They leave
They leave and may never come back
What option would you prefer really?
Of course you would want them to keep coming back. But hey! It just does not happen that way, you need to give them a reason to come back and that is quality content but what if they never got to remember your blog url anymore?
They are lost and lost for good, right! you just lost a reader.
The Good news actually?
You can keep them coming back by adding them to your email list. Sounds so easy right? No buddy, not as simple as you think
Were you actually thinking "I would add them to my email list, and that's all?
You actually need them to subscribe to your newsletter but simply placing the newsletter and expecting them to subscribe don't happen so easily.
So What actually works?
Right on this post, I would show you the irresistible places on your blog that actually gets email subscribers popping into your list. [the_ad id="3440″]
But before showing this places, you need to create contents that readers love. When I mean contents that readers love, I mean a kind of content that solves readers' problems which definitely makes them want to need more from your blog.
I suppose you already know your target audience I.E who you are blogging for. If they love what you post, you definitely would get more subscribers to your list.
That is the first step to take before getting to know where you should place your newsletter for more optins.
Checkout: 5 Unknown Ways To Get New Post Ideas Even When You Suck At Writing
What are those irresistible places that helps you build your email list easily?
After the First Paragraph
One of the best places to get email subscribers is after your first paragraph because that is the first place in your content that catches your reader's attention. But you don't just place a newsletter widget there because they would just look and pass on.
You need to grab their attention: The technique you can use here is to actually create a handy and quality eBook that your readers love and have it on your blog for them to download for free when they give you their email. Here is a detailed guide to creating eBooks.
Example is the one in the screenshot below;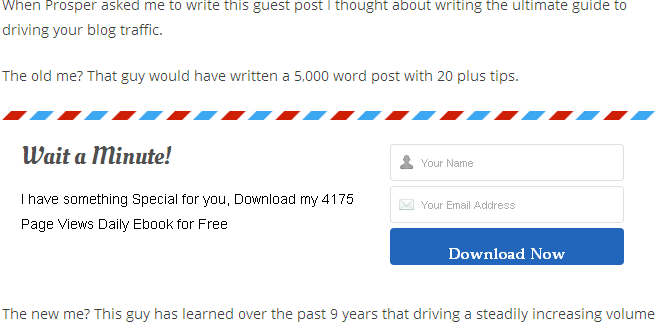 All you need make sure of is that your headline and Call to Action is grabbing as seen above.
I make use of Mailchimp for my email list building and you can use the Optin form Plugin to create beautiful forms and display the widget just after the first paragraph.
In my case, I created a worth-having eBook and have it displayed just after the first paragraph, and it helps me collect emails alot. That is one of the best places you can place your widgets to get more email subscribers. However, make sure you are providing readers with quality in order for this to work well for you.
Build your Email List by Thanking First Time Visitors
I have found this to be one of the best places on your blog you can get more email subscribers. You should start implementing this and you'd sure get more email subscribers.
Here is how it works
A Reader visits your blog for the first time
He Comments
Thirdly, he is redirected to a page after posting his comment: Probably a thank you page
On this page, you thank him or her for commenting on your blog and offering to provide more quality contents to him if he subscribes to your blog.
I have used this for sometime on this blog and it does help get in more email subscribers. See below screenshot for what am talking about.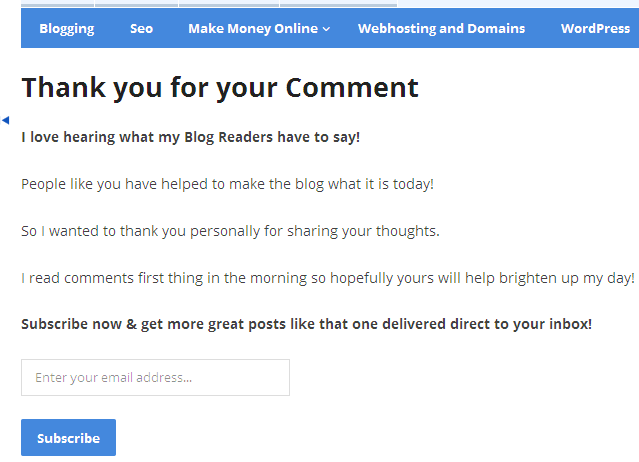 I make use of the Comment Redirect WordPress Plugin to do achieve this. I have seen many blogs that don't use this. I would really advice you start implementing this to boost your email list subscribers. It works great. [the_ad id="3434″]
Redirect New Visitors to your Landing Page, Get more Email Subscribers
Ever heard of Landing Pages? Well It works great. I definitely use it on this blog and so far, I have seen much success in email opt ins.
What is a Landing Page?
A Landing page is like a place on the blog where you can advertise a product, promise a reader of something when he drops his or her email and lots more.
There are lots of wordpress themes that comes with a built in landing page but few themes do not. You have to create a landing page personally for them. You can find freelancers on fiverr to help get a nice looking and converting landing page for your blog.  Meanwhile, In the upcoming posts, I would be showing how you can create landing pages.
So how do I get more email subscribers using Landing Pages on my Blog?
You need to make sure your landing page tells your readers what to expect, in this case I still make use of a quality eBook to achieve this. When a New Visitor enters my blog homepage url into his or her browser, he is automatically redirected to my landing page.
Example in the screenshot below;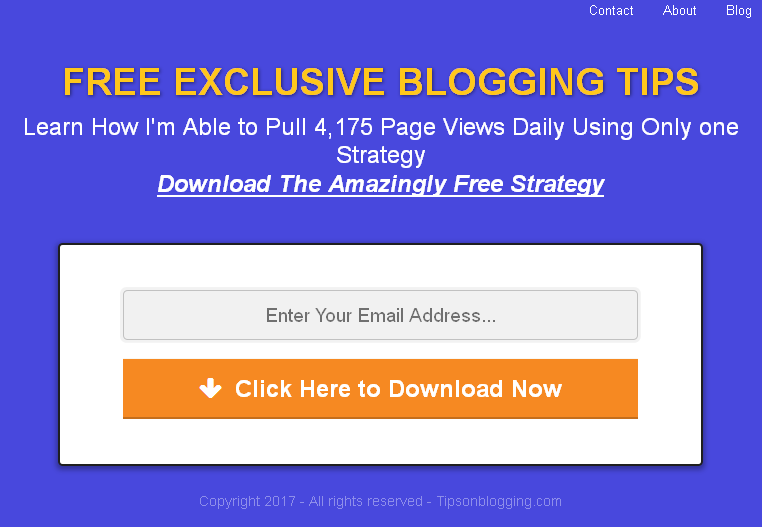 How to Redirect New Visitors to your Landing Page
After creating a landing page and connecting it to your email marketing tool, I recommend mailchimp. You should make use of the Redirect wordpress to welcome or landing page Plugin to redirect new visitors to your landing page.
In my case above, I am offering visitors ways they can get more traffic [eBook]. They then enter their email and when they confirm their subscription they get the ebook automatically.
NB: I would be making a post soon on how you can automatically send eBook to visitors after subscribing to your email list.
So this method of landing page to collect emails have been working well for this blog and I definitely recommend you start implementing it.
I have come to the end of the Post and I hope you enjoyed the tips to building your email list.
Conclusion
If you are going to build your email list, Offer users quality eBooks or offers. Do not just put in the Newsletter Widget on your blog side bar. They don't work, Yes! they really do not work.
These are the irresistible places on your blog that converts so well as to building your email list. Let me know in your comments if there are other places you have found too.
Meanwhile, do share with friends and enjoy your day!
Prosper Noah is the brain behind TipsonBlogging. A full-time blogger & SEO expert.  His tips has helped a lot of people
start their own blogs
, grow it and make money.