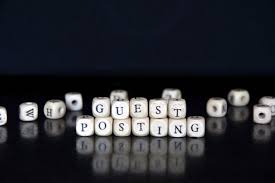 Hey, trust you are doing good today.
What is Guest Posting?
Guest Post is in no doubt one of the best ways to get more exposure on Authority Blogs and Build Relationship with other bloggers in your niche of blogging. While you have your articles published on top blogs, you gain more popularity, gain more brand mentions which in turn builds your blog. Guest Posting can be free and Paid.
What is Paid Guest Post?
This type of guest post can be said to be freelancing. Freelance Writing is when you are paid to write for blogs or websites. This way you make money writing.
Freelance writers may not have a personal blog of their own and are popularly known as ghost writers.
What is Free Guest Post?
When you own a personal blog, and decide to share your knowledge with other blogs in your niche, you tend to pitch a guest post  and the author or blog owners are willing to publish your guest post with their readers if its inline with their guest posting guidelines.
This way you gain more exposure and build relationship with the blog's readers and as well drive traffic to your own blog. Most blogs would accept your guest posts for free as far as its not a kinda related to "Sponsored Post"
What then is a Sponsored Post?
Sponsored Posts can be posts written unbehalf of a company or personal business mainly to promote a product. Sponsored Posts are not free, you pay the blog owner a fixed amount and get your post published on their blog. This way the sponsorer get more sales and exposure of the product while the publisher get free content and money.
But whats up with guest post now a days? Guest Posts are now being abused or done with mistakes.
But How?
Guest Posting: How was it done earlier?
Guest Posts used to be a way to build relationship with blogs and as well drive traffic to your own blog or get more exposure but now abused these days.
Searchengineland made a post earlier on how  a single guest post may have gotten a whole website penalized by google due to an unusual practice and huge mistake. Checkout the Post here
Why I will trash your Guest Post pitches: Guest Posting Mistakes and Corrections
Guest Post Guidelines: You Don't Give a damn
While I was busy here at Volks checking my mailbox, I got a guest post pitch. Guess what? Something was wrong.
On checking the attached file which entails the guest post, I noticed few things
The Article length was not up to the one highlighted in my guest post guidelines. We all love contents that can go viral
The Article Author Bio Link was one of "A referral link" or an affiliate link
The guest post only came for link and not to contribute to the blog's growth
Such guest Posts would waste no more minute, I would trash them immediately. This is a very big mistake in guest posting.
Its very much recommended you do well to check out the blog's guest posting guidelines. If you don't know or they do not have any link that talks about whether they accept guest posts or not on their blog, you can reach out to them via email to know if they accept guest posts.
Below Template can can be used when you want to contribute to a blog that has no page for guest posting guidelines.
"Hi [Name],

Hope you are doing good. As you can notice; I've been a follower of your blog [blog link] for a while now and tend to know how your blog works.

I would like to contribute and share my knowledge with your readers, believing that could add more quality to your contents.

I would have loved to know what your guest posting guidelines are, in order to follow them properly before sending my guest post.

Thanks and awaiting your reply.

[Your Name]
This way if the blog accepts guest post, they would quickly give you a reply stating their guidelines for guest post submission. Then you are good to go.
You Don't Practice Smart Blogging before Pitching your Guest Post: No Relationship
You may be wondering; what do I mean by "smartblogging before pitching guest posts?"
Before you think about pitching a guest Post, what relationship do you and I have? Have we met before?
When you want to send guest posts to a blog you need to have done two things first;
Already Built a Relationship with the Blog Author
Relationship with the Readers
How to do you build a relationship with the Blog Author and his Readers?
Comment
You can't possibly get your guest post approved when you seem to be new on the blog. I, as a blog author do not know you, we have not met before, etc.
But when you leave comments on your Guest post target blog you show that you are interested in his or her blog and a part of the community. when you continously leave comments, it shows your presence on the blog and the Author begin to notice you. This way its 99% sure you can get your guest post pitches approved immediately.
Reply to Comments
When you reply to comments you build relationship with the blog readers and they get to notice your presence also. this way they get to know you and your blog. You won't look like a total stranger when you have your guest post published on the blog.
Share
This is one of the best ways to build relationship with a blog's author. He's active on social media Networks like twitter, Facebook etc. When you share and tweet his articles. Follow and tweet or share his articles.
Here is what I do that has now become a part of me; I visit the blog, leave comments and share. That's become a culture LOL.
So when you do above three things,  I guarantee you would be having your guest posts approved and published immediately.
I definitely would trash your guest posts when I nor my readers barely know you.
You've never commented on my blog before, neither have you shared the articles.
You are being Lazy: It's killing and would definitely kill you if you Don't Stop, we All Hate it.
Sorry for the harsh headline but its the truth. When I mean lazy; I mean stop spinning articles. There are a lot of article re-writers out there for rewriting articles but there's much more problems with these article spinners.
They definitely would not help you get your guest post unique and approved by Guest Hosts.
Whats wrong with Article Spinners?
Blog owners are Smart; Article Spinners are Dead
Any well learned individual can identify a content that is spinned or re written:
A Spinned article;
Cannot be understood clearly
Humans are soft and swift to hearing what they read. A spinned article definitely would keep away readers. Because it can't be understood and not even good to the hearing.
A Spunned Article sounds entirely different from a real article giving the impression that it was actually rewritten.
Ever heard of those promising you thousand of backlinks? That would bring us down to below
Low-rent SEO marketers advertise that they can get your business relevant backlinks in hundreds or thousands of related blog posts and pages. That's great, but the trick is, they've got to be able to generate all of that content quickly in order for it to be worth their while. They can't just write one blog post and throw it up on a thousand different pseudo-blogs and low-grade article collection sites. Google would quickly recognize what was going on, and punish all the sites sharing that duplicate content. And your site would be punished as well for being linked to by all of those copy-paste articles – Creativecali
Spinned Contents definitely would lower your search engine rankings overtime when google discovers it.
That is one reason I will trash your guest post pitch. It's pretty good to learn how to write contents.
Ryan Biddulph of BlogginfromParadise holds that you write 1000+ worth of blog posts daily and when you are done, trash it.
That is one way to master the art of writing contents continuously.
You Need Links to your Blog: That's all you came for
While backlinks remain one of the must-have to rank on search engines, you can get as much backlinks as you desire from guest posting but unfortunately if you are just in for the link, you'd definitely not get it.
What should you focus on when you leave guest posts?
Go with the sole aim of contributing
Add Quality
Build Relationship
When all you need when pitching your guest post is to get a backlink to your desired blog and nothing more; then get ready to get your guest post pitch disapproved.
You may be asking "how do you know am coming for a link?" Bloggers know when you are coming for links and it includes some of the above mentioned.
Your article is not up to the required length as stated in guest post guidelines
They do not have a a guest post post guidelines page and you did not not bother to ask if they allow guest posts
You've never be seen on the blog before I.E: You don't leave comments, share or tweets etc.
Above are the mistakes of guest blogging and reasons I will trash your guest posts. These things are very important in the life and growth of a blog.
See you at the top!
What other guest posting mistakes do you know of? Have you been making some of these mistakes? which are you as a blog owner likely to disapprove? Let me know in your comments?
Prosper Noah is the brain behind TipsonBlogging. A full-time blogger & SEO expert.  His tips has helped a lot of people
start their own blogs
, grow it and make money.