Can you really build a blog that banks?
With a title like this, I should be expecting huge visitors to this post. So, I should make sure I have something worthwhile to share.
Today's post is coming from a wonderful Guest Author Okon Joseph, he is popularly known as Content King.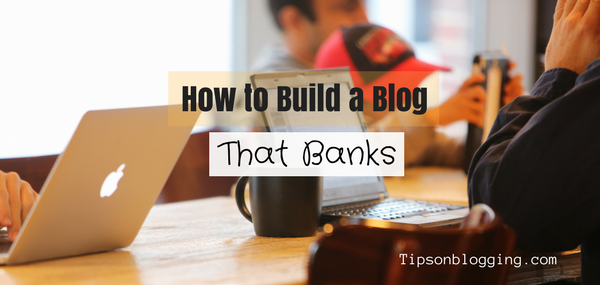 Oh yes, I know your thoughts. I once asked myself the very question of how I intend to build a blog that makes me money.
Actually, this post is specially for people who are having the mindset of starting a blog but want to know how they can build a blog that can make money for them.
Checkout: How New Bloggers Can Get Traffic to their Blogs and Build Followers
Before venturing into the business of blogging, there are some things you need to know to be able to start blogging in the right direction and that is what I am about sharing with you in this post.
It is not just about registering and hosting a domain, publishing contents upon contents, alongside hoping that Google Adsense approves your request and one day your blog becomes the next marketplace.
It doesn't work like that.
So, what are the criteria to consider if you want to build a blog that makes you money even when you are sleeping?
Here they are;
A Good Domain
Having a good domain is one factor to consider when starting out as a blogger. Your domain name is something you must give a good thought about. Your domain name is your brand name.
Don't see it as just a name. It is more than that. Because eventually, you blow up, that is the name that people will recognize you with.
Also if you want your blog to be able to generate money for you, the use of keywords in your domain name is another important factor. Search engines take into account keywords in your domain name for ranking purpose.
So, if your blog relies on Adsense for generating income, your domain name can quicken Google to crawl your site easily to generate organic traffic for you.
The keywords you use as your domain name has a huge impact on your search engine ranking. A good domain name provides:
More trust to readers thereby increasing click-through rates.
More attention in the search engine results pages.
Paid search and online ads also work well with a good domain name.
Checkout: The Ultimate Guide to Choosing a Domain Name
Try as much as possible to avoid going for those free tipsonblogging.com and wordpress.com domains. It doesn't show the professionalism of your grind. I don't even like visiting such sites as I see the owner as someone who is not serious about his or her blog business.
Great Theme
Another way to build a blog that banks is by having a good responsive theme. Having a nice theme on your blog is another way you can build a blog that banks. You must also have heard that the theme you choose for your blog can significantly affect your SEO outcomes. That is very true!
Aside from SEO, the beauty you give to your blog make readers want to visit your blog and read your contents. I once visited a blog that I wasn't able to differentiate between the blog content and advert contents. This made me angry and I decided not to visit the blog again.
Some themes are only good witha desktop view but don't look too well with mobile while others look very beautiful with mobile views but not okay on a desktop. This alone can limit the number of visitors coming to your site.
If you want to go for a theme, I will suggest you go for a responsive theme. You can get good ones for free while others are paid (premium).
If you see a good theme that you like on someone's blog but you don't have the money to buy it from the online store because you have not started making money from your blog, you can message the owner and request for it. It is not free for sure but it will be at least cheaper than the price the blogger bought it.
I mostly do this for newbie bloggers that do find my blog theme beautiful as my way of helping. So, don't be afraid, ask and it shall be given.
Good In-depth SEO Friendly Content
Do you like Neil Patel? I am sure you also like reading his contents too. You must have noticed that his contents are always more than 2000 words. Content is still king till date. Creating good in-depth contents that are informative, gives you an edge over other blogs with scanty contents. Search engines like Google in case you don't know quickly crawls blogs with long contents.
So, make it your policy to always create contents that are not less than 750 words at least. As for me, I go with nothing less than 800 words. With this, I can give an in-depth explanation of whatever topic I am sharing with my readers.
In return, it builds trust between me and my readers and I make money whenever I sell my products or service to them.
External Backlinks
How many links do you have pointing to your blog? Maybe you don't even know that. And maybe you still don't know that your rankings are based on external links and contents. I am sure you still don't know that the more external links you have pointing to your blog, the higher you rank on search engines.
Checkout: The Best Strategy to Get Backlinks from Authority Sites Right Now
And the higher you rank on search engine, the higher the organic traffic you receive which also affect your Adsense earnings. Talking about how to get backlinks to your blog is another topic on its own. But, one way to get quality backlinks pointing to your blog is through guest posting on niche blogs with good ranking and traffic.
Conclusion
Blogging is not as hard as you maybe thinking if you treat it as a business and not a money making machine or get rich quick program. Building a blog that banks is all about thinking long term. Your blog won't go into extinction by next year or two, why not build a solid foundation as you blog?
My blog is not getting the amount of traffic I want, but I am not too worried because I know I am working towards it by laying the proper foundation needed to get there. I am building strong external links, by guest posting and using other strategies.
What are you doing presently in building a blog that banks for you?
About Author
Okon Joseph is an SEO freelance writer and blogger popularly known as Content King. He is the first call when webmasters need search engine optimized contents for their sites. He has helped small and big online businesses grow their income and traffic through content marketing.
Prosper Noah is the brain behind TipsonBlogging. A full-time blogger & SEO expert.  His tips has helped a lot of people
start their own blogs
, grow it and make money.