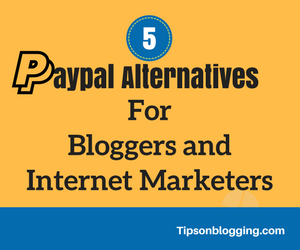 Looking for Paypal Alternatives? You are on the right Post.
You are a Blogger or an Affiliate Marketer. So whats' up? You need to receive your online earnings and as well pay for Services.
But hey;
You are not allowed to send or receive payments in your country just yet using Paypal? How do you manage this? Of course you know paypal is world popular payment platform.
You just set it up and start sending or receiving immediately but unfortunately they are not offering services in your country yet.
About PayPal
PayPal founded 1998 Lets you pay for products online with ease. With PayPal you can shop online; buy Domains, Hosting etc using your Attached Debit/ Credit Card or PayPal Balance.
Not Just for Paying for Products Online
Most Adnetworks like Infolinks, Media.net etc.. requires you have a PayPal account for receiving your monthly earnings.
See how I made $205 from seo clerks affiliate in february on this tipsonblogging post.
What about Affiliate marketers?
You are an affiliate of major Webhosting Companies like bluehost, Hostgator, Dreamhost, etc… and you need receive your earnings.
Not only Bloggers and Affiliate Marketers, Most Online Gaming Companies tend to accept payments too using these PayPal Alternatives. There is a variety of online casinos that accept instant banking casino this payment methods as well.
Business Owners Pay their Clients through these Alternatives. I would be focusing mostly on Bloggers/Internet Marketers and Affiliate Marketers because we need these alternatives the most 😄.
But;
You can't wait for PayPal supporting your country in the upcoming years as always promised by them.
No worries;
There are always best alternatives to PayPal, if you don't have PayPal you can receive your earnings or pay for Services such as your Domains, Webhosting, Themes and Plugins, etc using these 15 PayPal Alternatives you are about to read on the Post.
What are PayPal Alternatives?
If you don't have a PayPal account or its not currently enabled in your country yet, you have other options available to you.
The 15 PayPal Alternatives for Bloggers and Internet Marketers?
Payoneer
I have written couple of articles on Payoneer and its Importance to any Blogger or Internet Marketer. Payoneer Definitely gets the first position.
Payoneer founded 2005 is one of the best paypal alternative right now, in fact its one of the most recommended alternative by all bloggers. Takes Just Few Minutes to Signup and you can start receiving payments from Affiliate Programs, Adnetworks like Google Adsense, Infolinks, etc.
If for any reason you are not able to get Paypal in your country, then Payoneer is the Best Alternative. You can make payments online with your Payoneer Mastercard and as well receive your earnings from Companies.
Below are some references to get you going with Payoneer ranging from how to signup to receiving.
Skrill
Skrill is a good option for bloggers and internet Marketers. It lets you send and receive payments online. It's kind of similar to Payoneer that offers you a prepaid Mastercard but the thing about it is that you can use it mainly for paying online with your linked Card. Though other skrill users can transfer funds  to you.
If for any reason you are not comfortable with using Payoneer or Payza, then you definitely should try out skrill. There are lots of Domain Registrars and Webhosting Companies that accepts Skrill as method of payments.  Examples are Godaddy, Qhoster.com
It's way easy to start with skrill, all you need do is Signup Now for Free
Payza
Payza is another wonderful platform, It deals mainly with paying online but there are just few programs that allows you receive payments with it. Which simply means you can't receive most affiliate program earnings with Payza. This includes popular affiliate programs like Bluehost, Thrivethems etc.
Most Online Survey websites such as clixsense have payza as withdrawal method, but I definitely am not recommending survey websites.
While you may not regularly receive online payments with Payza you could make payments for Domain and Webhosting, SSL Certificates etc. using Payza.
Here are some domain registrars accepting Payza as payment option.
Web4africa.net
Qhoster.com etc
Checkout High Paying Affiliate Programs Right Now
2Checkout (Global Payment Solution)
Aha! 2Checkout is the solution for Internet Marketers who wish to receive payments  with their Websites. 2checkout definitely is the solution, because its an all in one payment method.
Goodness; It allows you receive payments using Debit Cards such as MasterCard, Visa and American Express, Discover etc. When you don't have access to paypal then 2checkout would do the job.
Do you own a WordPress website and sell products? You can receive payments using 2checkout by integrating it.
In summary, It lets you accept payments globally on your website.
Neteller
Neteller is a popular Payment Platform based in the United Kingdom but any country can use their service for payment online. Its similar to Payoneer and Skrill which also offer you a Prepaid Card. You can send Neteller funds to other Neteller users.
Its not offered as a method of Payment by most Affiliate Programs or Adnetworks yet as Payoneer remains the best of all.
You can use neteller for Online Purchases such as Domains and Webhosting and other blogging related things. Domain Registrars like Qhoster accept Neteller as a payment method for its Domains, Webhosting, SSL Certificates and lots more.
Create your Free Account on Neteller
While there are many other paypal alternatives such as Selz etc.. I've decided to only list the recommended ones as of now.
Payoneer remains the best alternative for bloggers and Internet Marketers. Paypal really should not stop you from making payments online while you have these Alternatives you can use.
I would be writing a detailed post soon on how you can use each of these payment platforms, meanwhile getting started should not be hard for any blogger. Simply Signup with any of your choice and enjoy.
PS: If you are looking for the best tool on seo for affiliate marketers, don't forget to read my honest seoclerks review now
Are you going to start using any of the listed PayPal alternatives? Which of them have you used and loved? Share in your comments.
Prosper Noah is the brain behind TipsonBlogging. A full-time blogger & SEO expert.  His tips has helped a lot of people
start their own blogs
, grow it and make money.