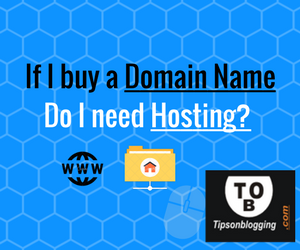 [dropcap]A[/dropcap]s a blogstarter, there are many things you need to know ranging from what a domain name is and how to get it.
I recently published a post on what to know about webhosting services. Right on this post am going to make you understand fully "If you really need hosting after getting a domain name. Keep reading.
Your Blogging Platform Determines (Blogger or WordPress)?
Blogger Platform
Getting hosting after buying your domain name really depends on the blogging platform you chose. If you use one of the free blogging platforms such as Blogger.com then below are what you need to know.
Blogger is owned by google and hosts you for free, so you don't need any other hosting. All you need do in this aspect is create a blog on blogger and get a custom domain for it and you are set.
That is for free blog sites such as blogger. Read below to gain even more knowledge as to whether you need hosting after buying a domain name.
Self-hosted WordPress
You may be wondering why I did not say WordPress but self-hosted wordpress. Yes, wordpress are of two type. There is the free blog which is wordpress.com (hosts you for free) such as blogger.com and wordpress.org (Paid).
If you actually created a blog on wordpress.com then you need not worry about buying hosting also because they host you for free. But in case you are planning on starting a self-hosted blog on wordpress (wordpress.org) you would need to also buy hosting after buying your domain name.
To conclude;
"Any website that allows you create a blog for free does not require you buy hosting because they've already made it available by allowing you create for free". Examples of such websites are blogger.com, wordpress.com etc.
I hope with this short explanation I have been able to answer your question regarding if you need hosting after getting a domain name.
Do well to hit the share buttons and make sure you drop contributions or questions.
Prosper Noah is the brain behind TipsonBlogging. A full-time blogger & SEO expert.  His tips has helped a lot of people
start their own blogs
, grow it and make money.