Want to learn how to add adsense code in blogger and wordpress?
Recently one of our users asked for help in inserting Adsense Verification code to Blogger. So I thought it would be nice to share the tip on how you can add Google Adsense veridication code to Blogger and WordPress Blog.
If you have been finding it difficult to insert adsense codes to blogger or wordpress, then let's put an end to it rightaway on this post.
You are going to learn step-by-step how to how to add adsense code in blogger or wordpress blogs. But first we are going to start with how to do it right on Blogger.
Before you Start
I suppose you have already applied for an Adsense Account and have the codes ready for insertion.
When you apply for an Adsense account new you would be required to paste this codes onto your Blogger Blog or WordPress Blog for Verification. Its similar to the one below.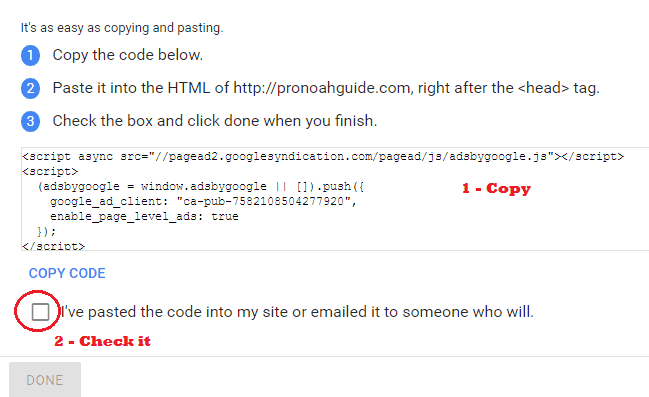 Now that you have the codes, follow the below steps on how to Add it to your Blogger or WordPress blog.
How to add Adsense code in Blogger and WordPress
For Blogger Blog:
Step 1: Copy the Code
Step 2: Parse the Code
Here is how to parse it;
Go to web2generators
Paste your Adsense verification code into the first box
Click on encode and copy the code from the second box
Step 3: Paste the parsed code (the code you copied from the second box) below <head> tag
Here is how to do it;
Press Ctrl + f and search for <head>
When you find it Paste the code right below it
Finally Click Save Template
Yes! You just did it on your blogger blog. Now wait for adsense review.
For WordPress Blogs;
It is very simple on WordPress Blogs. Just follow the below steps and you are good to go
Step 1: Click on Appearance
Step 2: Click on Editor
Step 3: From the right, click header.php and find <head>
Now, you don't need to parse the Adsense Code just as you do on blogger blog. Just below <head> Paste the Adsense Codes
Step 4: Finally Click Update to save.
Holla! You just did it on wordpress too.
Also Read: How to Find High CPC Keywords for Google Adsense in your Niche
So this is really how to add adsense code in blogger and wordpress blogs.
Drop your comments and share with friends.
Prosper Noah is the brain behind TipsonBlogging. A full-time blogger & SEO expert.  His tips has helped a lot of people
start their own blogs
, grow it and make money.