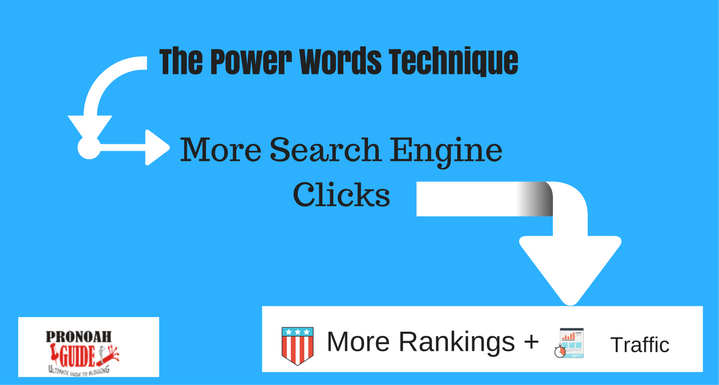 You love it when you get traffic from google. Because it gives you joy to know that your content can be found by millions  of people world wide.
Alert: Checkout my seoclerks review article one of the best seo tool
What is CTR?
One SEO Factor you should take note of is your click through rate. This measures how many times searchers click on your link from Google. your Click through rate also determines where you rank on Google. One thing you should know is that Google wants to show searchers the best result for the keyword they are searching for.
So whenever people search on google for a given keyword and your result attracts them, you get more clicks.
So what;
The more clicks you get on a result, the more google ranks you. This tells Google that the content on your site is what visitors are looking for.  So Google ranks you higher
There's more to this;
But the question is: How do you increase your Click through rates? There are many ways to increase your CTR on google search but which actually works?
On this post am going to share with you Step by Step on how to boost your CTR with using the power words technique.  Keep Reading;
The Power Words Technique: How you can increase your Search Engine Click through Rate with it.
What are Power Words?
Power Words are those killer words/illustrations you can use to attract google searchers to your blog.
One thing is to appear on google first page and another thing is to remain there and not allow Google drop you. With the use of Power Words you can maintain your Position on Google's first page or go higher if you make good use of it.
 How can you actually use the power words technique?
Here at tipsonblogging, it works for me.
The Power words technique is not as hard as you may have thought or wondered .Because right  now am going to teach you step by step on how you are going to use these technique effectively to increase your CTR. Below are examples of Power Words you can start using right now for your Blog Posts and see the results.
There's more to this;
Am not only going to list them out and leave you to use them for your blog but also give you some hints on how you can effectively use them.
Example of Power Words
Right Now
Google Searchers are so in haste to get results. Take for example  a visitor who searches on Google with the keyword "How to make money". You will notice he's actually looking for results that will get him the money as soon as possible.
When google loads, he would see as many results as there are but he would rather chose the one that will solve his problem right now.
So when you happen to be on that first page and includes the word "Right now" in your Title then its 60% sure you will get as many results as possible. Because your title is promising and attractive.
Other Power Words you can add to the above that also proven to work are words like:
Quickly
Fast
Today
Step by Step
The Easiest Way
Simple way
Quickly etc.
What you are focusing on here is how you can attract the reader and make him click on your own result.
But there's a catch when using the Power Words Technique;
You must make sure the content you want to gain CTR with should be of high quality and actually does what it says in the Power Word. For example you cannot add the power words (Right Now, Quickly and Fast) while your content is opposite. When you do this, you would notice an increase in your bounce rate.
Why an Increase?
Because your content did not fulfill what it promised on search engine i.e. with the use of power words. When you have more bounce rate, it tells google that your post is not a good fit for that keyword. That is when you hear complaints like "Google dropped me from first Page to 3rd Page".
So make sure that your content is of high quality when you use the Power Words Technique. This way you can make use of the power words technique highlighted on this post.
So here's the deal;
Power words Technique increase your Click through rate (more clicks on your results) >> Increase in Ranking >> More Traffic.
What kind of Posts does the power words technique work on?
Power words work mostly on How To's posts. This is because when people search on how to do anything they want results that can answer their questions. So when you make use of the power words technique, you get chances of them clicking on your result.
So this is all about the Power Words Technique. Start including them in your Titles today and await the result.
Have you been using this technique to boost your click through rate? Or you want to start using it? Let me know in your comments.
I made $205 using seoclerks, click here to learn how I did it quickly.
Prosper Noah is the brain behind TipsonBlogging. A full-time blogger & SEO expert.  His tips has helped a lot of people
start their own blogs
, grow it and make money.