You just created those posts for a long time now.  And you want to have them automatically shared to twitter and other social media sites everyday? Then you are on the right place.
Twitter is a very noisy place. Many active users use twitter to drive huge traffic to their blog or website.
On this Article am going to show you How I automatically share my old blog posts to twitter using a WordPress Plugin.
Why do I need this?
You have followers from different parts of the world and probably when you have tweeted your post, another side of the world may be sleeping, and you are missing a great amount of traffic. Moreover your readers are missing a useful blog post.
This would help your new followers on twitter get in touch with those old posts of yours. Thereby increasing your traffic. So, Tweeting your old Posts is a very good way of driving traffic to your blog and also keeping your readers informed. You need to give life to your Old blog posts by tweeting them.
Now without wasting much time I would just get to the main reason of this post.
I have been able to achieve this with the help of a WordPress Plugin called Revive Old Post 
This plugin helps you keep your old posts alive by automatically sharing them and driving more traffic to them from Social Networks. It also helps you to promote your content. You can set sharing interval and number of posts to share to drive more traffic.
You can as well checkout this Advanced twitter tips to further develop your skills to tweeting the right way.
Featurs of Revive Old Post
Share new and old posts.
Choose the time between posts.
Choose the number of posts to share.
Use hashtags to focus on topics.
Include links back to your site.
Exclude categories
Exclude specific posts.
Integrated with Google Analytics.
Compatible with URL Shortners.
Revive Old Post is a free WordPress Plugin but also has the pro version. But since I've been able to achieve the above with the free version. I would recommend it.
How to use Revive Old Post Plugin
1. First step to take is Install Revive Old Post Plugin and Activate.
2. After Activating, the next step is Go to Revive Old Post from your  Wordpress Dashboard to Link your Twitter Account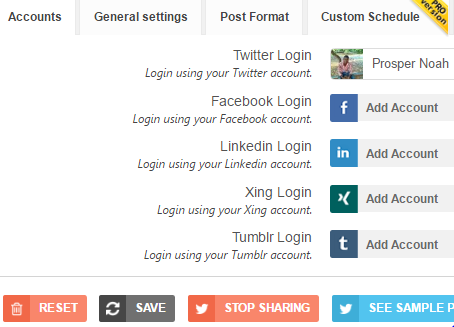 As seen in the above screenshot, All you need do here is Click on the Twitter Login and Add your Account. you can also add your facebook, Linkedin, Tumblr Accounts too.
3. When you are done Click on Save. Check your Twitter Updates and see your Old blog posts automatically shared on twitter while you sleep.
So this is How I automatically share my old blog posts.
Also Read: Running Facebook Ads that drives Traffic
Is there any other way you share your Old blog Posts automatically? Let me hear in your Comments.
If you find any step difficult, do not forget to relay them in your comments.
Prosper Noah is the brain behind TipsonBlogging. A full-time blogger & SEO expert.  His tips has helped a lot of people
start their own blogs
, grow it and make money.