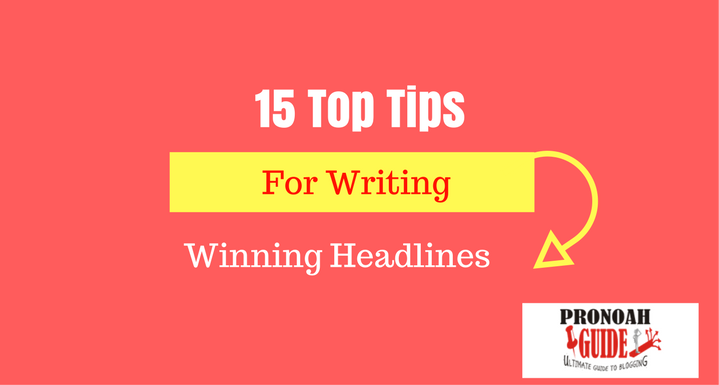 Writing Winning Headlines is extremely important because your headline is the first impression you make on a reader of your blog.. If your headline isn't compelling, visitors will breeze past your site or article and all your efforts go to waste. According to Jim Ackerman of Ascend Marketing, Inc, your headline accounts for up to 80% of the success of an ad or blog post—a good case for spending time on headlines.
15 Top Tips For Writing Winning Headlines
1. Solve a Problem in your Headline.

Most people don't waste much time in an headline that does not solve a problem.  That's why numbers (odd ones, preferably) fit into so many How to Headlines: Because reasoning from the headline alone tells the person what the content entails.
When I'm stumped for a headline, I think of the readership, I think of a problem they have and I solve it (or offer to solve it) in the headline. THAT'S the formula and it works for me and is still working till now.
2. Why A Quickie In The Afternoon Is A Sure Pick Me Up
Nothing gets clicks faster than tantalizing the reader with the promise of something exciting to read, and my best headlines have almost all had something to do with temptation, excitement, or sex. In fact, it's often best if you get the main copy out of the way early in the morning and come back to it later in the afternoon to create a headline, rapidly reading through the copy and getting a sense for what will let you reveal the sexy part of the message and make people want more, more, more…
3. Do The Words in Your Headline Repel?
Headlines attract or repel based on the words we use. Words affect our perceptions, our attitudes, our beliefs, and our emotions. The words you use in your headline make all the difference in the world. Language used incorrectly will lose the reader you might otherwise have attracted. Successful headlines all share a common theme. These headlines use language in ways that evoke vivid thoughts and feelings in their readers.
4. Ask A Question

When you start with a question that pertains to the topic of interest to the readers it opens the door for them to answer. example of this kind of
5. A headline should be concise- not more than 7 words.
Focus on a problem you are solving for readers. Use facts and minimize the use of adjectives. This way you would keep the headline short and pass your information briefly.
6. Use a Free Service for Optimizing Headlines

To ensure you're getting the best SEO for your blog or site, try LinkBaitGenerator.com, which reorganizes your headline for best SEO.
7. It Can't Hurt, Can It?
Headlines, whether in a journalistic venue, online in a blog, or at the top of a glassy advertisement must all do one thing well. They must direct the reader, unconditionally, into the body of the text that accompanies the headline. They may inform, but they'd better not tell the reader too much, or the reader won't feel a need to complete the read. Released from the compulsion to continue. Skimming headlines is a sign that the headlines are not doing the job they should.
I like questions that carry a tiny bit of information. The kind that can only be answered or explained through reading the text. While you need to start with something to connect the reader to your story or your product, there should never be a dead end in a headline.
A dead end is when a reader spots a compelling headline, but then is able to answer the question it either poses directly or implies, without reading the story.
Remembering what exactly a headline is supposed to do will help you write better and better headlines.
8. Tip For The Top
Tip for the top of the article: Because the headline has to grab the reader's attention and not let go, the writer has to play with the words. How? Use alliteration, for example.
Or, ask a question. Or, use a number ("The Top 10 …"). Or,use a word that everyone's abuzz about. Or, give double entendre a try.
A final note about the well-written, informative headline: To paraphrase Plato: "You can discover more about an article in a playful headline than in lengthy skim."
9. Follow Three Basic Rules
I have three suggestions for headline writers. The first is to write as many headlines as possible in as many different, proven headline styles as possible. (I always write a minimum of 20 headlines for warm-up). The second is to play "Headline Scrabble", substituting copy specifically related to your product, service or company into already written headlines that have already proven to be winners. The third is a one-time exercise write 100 headlines for one ad. (This to prove to yourself that you can do it and give you a lifetime of headline fodder.)
10. Keyword Research
Find the relative keywords to your article and place them in the headline, title and body. You can use free services such as keywordtool.io
11. Grab Attention with your Headline
You just need to grab the reader's attention with your headlines. It does not matter how long or how short it is but how far it can grab his/her attention.
12. Powerful and Dynamic Gets Results
My top tip is to keep the headline brief but powerful and dramatic. My name is Charlie Wachtel and I have end stage kidney failure. I am making a miraculous comeback and the headline that I use to get media attention is, "I was a day away from dying and had lost the ability to walk."
13. Be Emotional
Don't forget emotion! It's what drives us to take action & grabs our attention. What pain are you going to eliminate? What pleasure will you increase? Emotion produces response.
14. Make a reader care
Write from an objective point, thinking of your audience and what they need.
To evoke an immediate (intellectual and emotional) response in the reader compelling headlines must:
Involve readers immediately. Headlines must entice a reader to mentally ask, "why, how, who, where, when." If so, they feel it's valuable to read on and will opt in to read more.
Headlines build immediate interest and hold a promise to deliver answers, solutions instruction, connections, invitations, etc.
Make them relevant to current affairs, whatever the topic.
15. Combine figurative and literal
Writers may combine figurative language with the literal that should arouse the attention and interest of the readers to contemplate the existence of a paradox that seems to be true.
With these Top 15 tips you are on the go to writing a really winning headlines.
Now up to you, are there other tips you use that are not mentioned in this post? Let me know in your comments.
Prosper Noah is the brain behind TipsonBlogging. A full-time blogger & SEO expert.  His tips has helped a lot of people
start their own blogs
, grow it and make money.